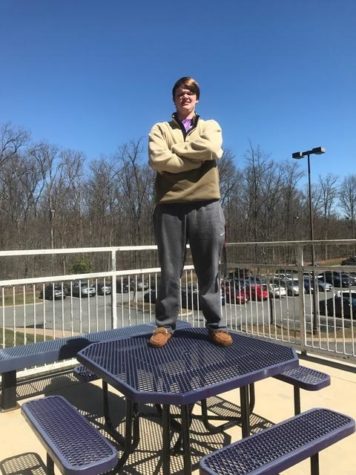 Senior swimmer and lacrosse player, Noah Beane, is ready to dazzle the audience with his hoverboard tricks at the Mr. PFHS competition.  When asked why he decided to compete in the show, Beane said, "I really like this school; I really like all the people here.  I figured it's my senior year and it seemed like something fun to do, so I should go ahead and try it out."
Beane has decided to do a hoverboard and rapping routine for the talent portion of Mr. PFHS.
Although a bit nervous, for the most part Beane is looking forward to having a great time with his friends and entertaining his classmates. "I might be a little bit of an underdog, but I think that in the end it's just going to be a lot of fun to do," said Beane
Mark Geppert, Jacob Printz, and McKay Shaw will be escorting Beane, "They're my best friends," said Beane.
Q & A with Noah
Q: What is your best trait?
A: "I think that I'm really funny."
Q: What song best describes you?
A: "Love Sosa by Chief Keef."
Q: What is your most prized possession?
A: "Probably my car, it's the most expensive thing I have."
Q: What is your life moto?
A: "Live life to the fullest"
Q: What is your greatest fear?
A: "Spiders"
Q: Describe your ideal date.
A: "Just going out and shooting some guns."
Q: If you were given three wishes, what would they be?
A: "A million dollars, I could be president, and I could have three more wishes."
Q: If you could go anywhere in the world right now, where would you go?
A: "Hmm that's a tough one. I'd probably… I'd stay here.  I'd stay here.  This is my home, I like it here."
Q: What is your biggest pet peeve?
A: "Probably when people just are not up front with you, and say things behind my back or something like that or when people do not talk to me directly"
Q: If there were a movie or book written about your life, what would the title be?
A: "This is funny because I used to do this rap thing… The Prodigal Beane.  Like you know prodigal, like that word, and my last name is Beane."