Gossip Girl: Like This? You'll Love That.
We all love a bit of drama and impeccable fashion from Manhattan's Upper East Side, so here's a list of entertainment that fulfills those drama needs
Spotted: Serena van der Woodson (Blake Lively) is back on Manhattan's Upper East Side, but this might just disrupt her best friend's, Blair Waldorf's (Leighton Meester), reign over Constance Saint Jude Prep School. Now that she came back, Serena seems to be getting everybody's attention, as usual, but Blair won't be having it this time.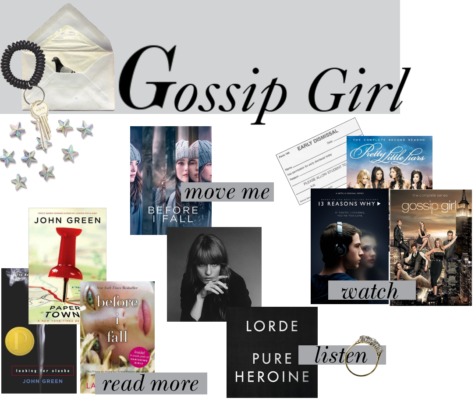 YOU'LL LOVE: TV SHOWS
Pretty Little Liars and Gossip Girl: they're about friendship, the jealousy that breaks it, and the reunions to follow. Alison DiLaurentis (Sasha Pieterse), the "It" girl and queen bee, and Aria Montgomery (Lucy Hale), Emily Fields (Shay Mitchell), Hanna Marin (Ashley Benson), and Spencer Hastings (Troain Bellisario) are all best friends. But all of that doesn't quite matter when Alison goes missing, and with it their friendship. A year later, they come together again to figure out who "A" is before she reveals all their secrets. This show is thrilling as it combines the best elements of "Gossip Girl" like its drama with a hint of mystery.
YOU'LL LOVE: MOVIES
What if it all came to a crashing halt? Your popularity, friendships, and missed chances? "Before I Fall," originally a book by Lauren Oliver, is about Samantha "Sam" Kingston (Zoey Deutch) exploring every opportunity to make sure those things stay the same after February 12. Because if Sam doesn't, she'll just have to keep doing it again, day after day, until she gets it right. Through that repetition, she unravels the tight knit friendship with her best friend, Lindsay Edgecombe (Halston Sage), and what it means to them and February 12. Their friendship, like Serena and Blair's, is all fun and gossip until somebody gets hurt.
YOU'LL LOVE: BOOKS
Paper Towns by John Green shows how nothing is as it seems — a common theme with the lives of Blair and Serena when it comes to outside eyes. Quentin "Q" Jacobsen is enamored with his girl-next-door neighbor Margo Roth Spiegelman, who seemed to be perfect and popular with an adventurous streak. That is, until she shows up at his window with an adventure in mind for the both. Q didn't know that adventure would lead to one of his own with a bunch of his friends as they look for Margo. Much like Gossip Girl's Serena, Margo seems to have it all, until one day she leaves and all the holes in her life are revealed.
YOU'LL LOVE: Music
For those melodramatic moments after a  long evening of "Gossip Girl":
HowBig, How Blue, How Beautiful by Florence + the Machine
Pure Heroine by Lorde
Harry Styles by Harry Styles
What Do You Think About The Car by Declan McKenna
Sweet Dreamer by Will Joseph Cook

Hang on for a minute...we're trying to find some more stories you might like.