Ugly Sweaters Just Got Uglier
Although around since the 19th century, the infamous 'Ugly Christmas Sweater' trend has become a popular tradition throughout the past decade. As sweaters become more intricate with each passing holiday season, some wonder where to get the best ugliest sweater for their upcoming party.
Sweater #1- Fidget Reindeer
As high schoolers, we are all fairly familiar with 2017's newest contraption: the fidget spinner. Created to help kids with ADHD and Anxiety concentrate, fidget spinners have been adopted into households all over the world as merely an addictive toy. Whatever inspired someone to stick a fidget spinner on an ugly Christmas sweater is beyond me, but it's certainly not the worst invention in the world. For only $59.99, this Fidget Spinner Reindeer Sweater could be yours (fidget spinner included in purchase!)
Sweater #2- Fat Mer-Santa
When we picture Santa Clause, most of us imagine the stereotypical fat, jolly man with a long white beard in his famous red suit. This next sweater takes our perceptions of Santa to a whole new level, as he is shown wearing a seashell bra and a long tail replacing his legs.  One of the more random designs out there, but still just as fun and festive, this Fat Mer-Santa sweater will be sure to get you a few giggles and stares in public for only $59.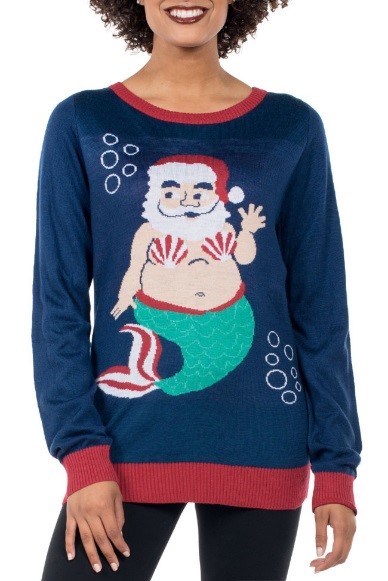 Sweater #3- Cats and the Dreidel
As Ugly Christmas Sweaters became a big hit, goofy sweaters started to be made for different winter holidays as well. Composed from the hit '70s song 'Cats and the Cradle' by Harry Chapin, comes this hit Hanukkah sweater known as 'Cats and the Dreidel.' If puns, cats, and Hanukkah interest you, so would this $30 sweater.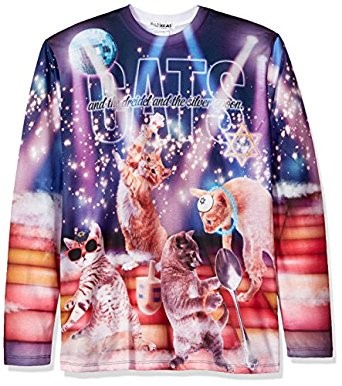 Sweater #4- Partner Sweater
This $41.22 two-person sweater will take closeness to a whole new level. And if you think the price is a bit steep, you can always split it. Be different and stay extra warm this holiday season side by side with a friend, family member, or significant other in this fun and cozy partner sweater! This sweater features two sayings "I've been naughty" and "I've been nice," although you choose who goes on which side.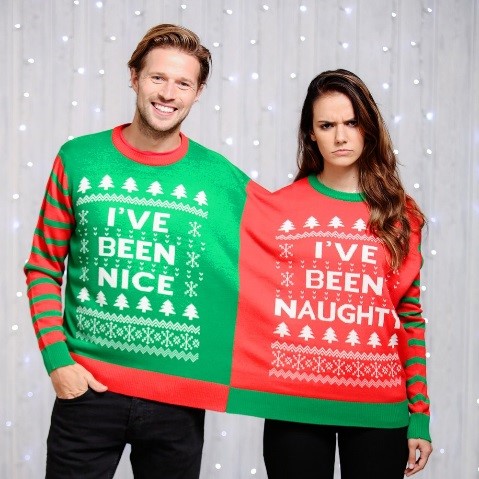 Sweater #5- Quilty Pleasure Suit
Last but certainly not least, for those of you who will not settle with a simple sweater, comes the Guilty Pleasure Christmas Suit. Covered in Holiday-related images, this suit is sure to draw plenty of attention with its various colors for $100.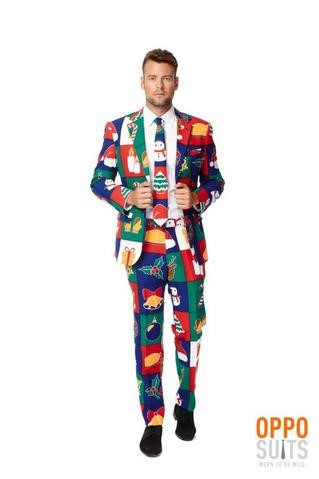 Hang on for a minute...we're trying to find some more stories you might like.