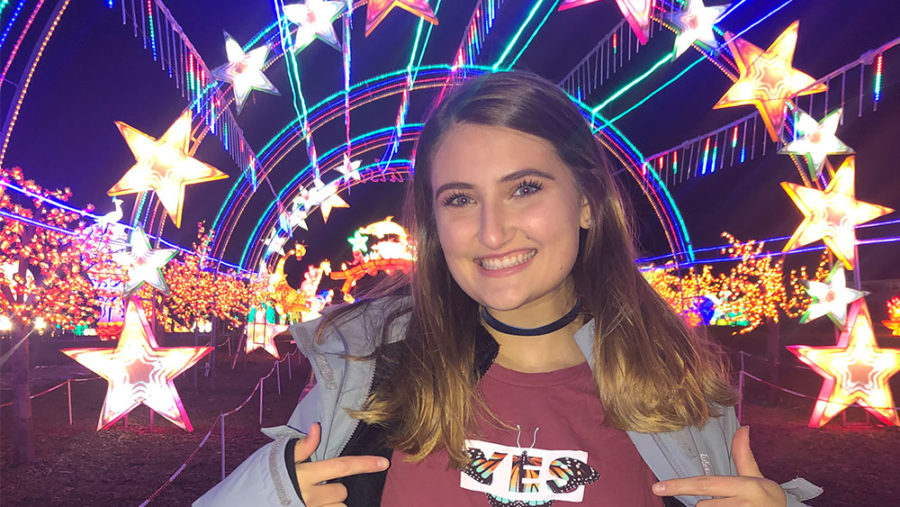 Now that Thanksgiving is over, Christmas season is in full swing. The holiday season is all about spending time with your family and friends, and creating new holiday memories. A lot of people complain about there being nothing to do in NoVA, but we don't realize how truly blessed we are to have so many fun holiday activities in our backyard. Here are nine things you can do to make new memories and traditions this holiday season in NoVA.
1. Ice skating at Reston Town Center
Although ice skating isn't exactly holiday related, it is still a super fun winter activity that can be done with family or friends. Reston Town Center has a beautiful outdoor skating rink in the center of the community. To make it even better, the rink is right next to the stunning Christmas tree that is lit up all month long.
2. Light Up Fest at One Loudoun
New to Loudoun County this year, the light up fest has quickly become a fun family night out. This festival of lights features over one million lights, bringing together traditional Chinese lanterns and state of the arc lighting technology. Priced at roughly $30 a person, the light up fest is certainly not cheap, but it's guaranteed to make for some great pics and memories.
3. ICE! at the Gaylord
Located at the Gaylord Hotel at the National Harbor, ICE! is a one of a kind walk-through experience that showcases two million pounds of ice sculptures. The theme this year is Charlie Brown, but it also features two slides made from ice, and a crystal-clear nativity scene. An important thing to remember is that because everything is made of ice, the area is kept at nine degrees Fahrenheit, so be sure to dress in layers.
4. Christmas market in Washington DC
Walking around a Christmas market is the perfect way to get into the holiday spirit and get some unique Christmas gifts. The Downtown Holiday Market boasts over 150 artisan crafters and boutique businesses, while also providing festive food, music, and drinks. The market is located between 8th and F streets in downtown DC and runs daily from noon to 8 p.m.
5. Christmas tree lighting at Cascades Overlook
Most cities/town centers have an event to light their Christmas trees. The biggest event near us is the National Christmas tree lighting that takes place on November 28, but because that's far for such short notice, there are some smaller, local tree lightings. Cascades Overlook will also be holding a smaller, but still just as fun and festive, tree lighting on November 28.
6. Drive through neighborhoods and look at lights
Even though this doesn't necessarily have to be done in NoVA, there are plenty of good neighborhoods near us with stunning Christmas lights. One of the best neighborhoods to look at lights in our area is Sterling Park, but there are also many other neighborhoods that go all out. If you're lucky, you'll run into a house that is hooked up to a radio station.
7. Bull Run Festival of Lights
A cheaper alternative to the Light Up Fest is the Bull Run Festival of Lights, that is only $20 per vehicle. You simply drive down a 2.5-mile road illuminated with lights and then end up in the village, where you can enjoy food, drinks, rides, and photos with Santa. The best part is that you get to stay in the comfort of your car the whole time.
8. Holiday Bazaar at PFHS
The best way to support local businesses and clubs at our school is to attend the Holiday Bazaar. Like the holiday market in DC, you can buy unique Christmas gifts, but this time right next door. The Holiday Bazaar is on Dec. 2 from 11 a.m. to 3 p.m. in the school cafeteria.
9. Go see a Christmas movie
You cannot survive the holiday season without watching a holiday movie, whether it be a classic movie at home or a new movie at the theatre. The most recent holiday movie that came out is the new animated Grinch movie, which according to pluggedin.com, "this version of the Grinch's tale is well made, as clean as a crisp snow on a Sunday morning. It's honeyed with uplifting messages about the importance of friendship and family. And perhaps most surprisingly, it even musically links the birth of the baby Jesus to the Christmas festivities and soaring spirits in Whoville." No matter what Christmas movie you decide to watch, it is guaranteed to put you in the Christmas spirit, unless it's Die Hard.