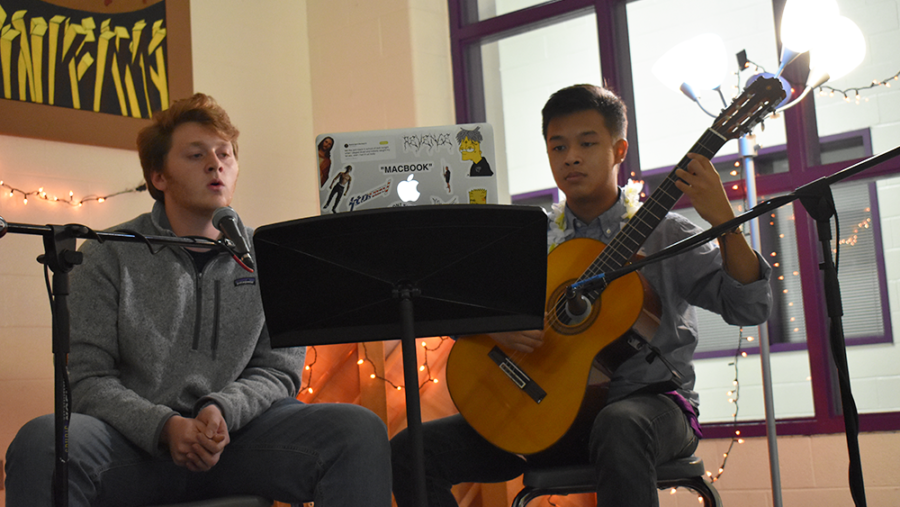 10 PFHS students recently participated in All-State Guitar, an exclusive event for talented and determined musicians
Music classes at Potomac Falls are no joke – they are packed full of ambitious and dedicated musicians who earn awards left and right, making Potomac Falls a force to be reckoned with in the music world.  Because of this, it is no surprise that guitar teacher William Wells' students made up a quarter of the 2018 All-State Guitar band, a Potomac Falls record.
The process of getting into All-State Guitar is a long and rigorous one, involving months of independent practice, working in small groups on audition material, and performing in auditions for sight reading, practiced music, and scales.  Once students are selected for the ensemble, they take a weekend trip to meet with the rest of the group, rehearsing for hours in preparation for their concert.
Wells is proud of his students for the hard work they have poured into being selected for All-States.
"I have been very blessed to have worked with such dedicated and talented musicians," said Wells.  "They really go above and beyond what is expected of them and required of them in terms of class.  They're passionate, they're fun-loving, and they're enthusiastic, so that translates into them pushing… not just themselves as individuals, but supporting each other."
Wells supports the students throughout their journey to All-State Guitar by holding rehearsals and help sessions in the months leading up to both the audition and the event itself.  Senior John Le feels incredibly grateful for the work Wells has put into helping him and other guitar students make it to All-States.
"He's been fantastic," said Le.  "He helped us get all of our music, he helped us prepare our music… and he would provide one-on-one feedback for us."
This is Le's third year participating in All-States, and he is glad to end his high school experience with another chance to experience the event.
"I felt really complete and proud of myself that I was able to make it one last time," he said.
Although making it into All-States is certainly not an easy task, Wells always had faith in his students' abilities.
"It takes a command of technique that is unparalleled for students normally at a high school level," he said.  "It takes a musical understanding and ability to demonstrate a musical interpretation, [which is] rare for students at this age, and it takes a passion, it takes a drive, it takes a commitment. [They are] some amazing students."