Spotify Wrapped 2019 Feature Goes Live And Everyone Is Talking About It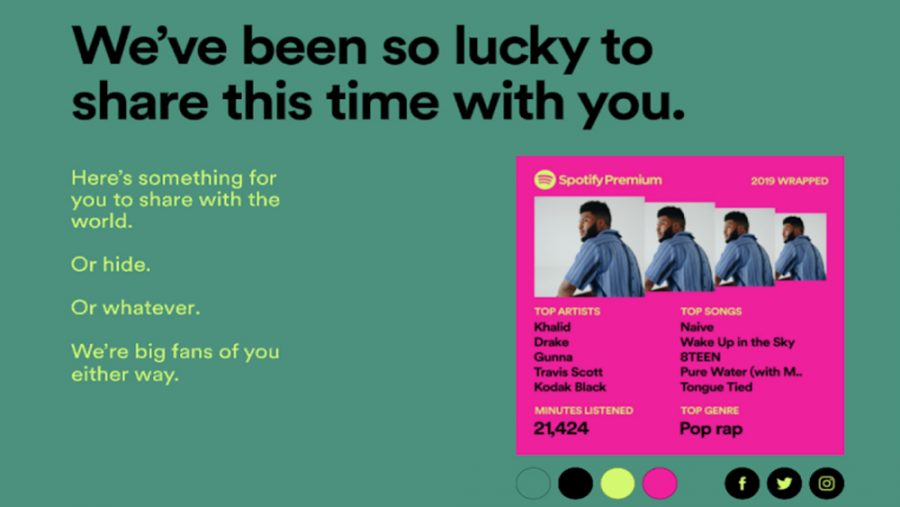 Popular music streaming service Spotify highlighted users most listened to songs and artists in the 2019 Spotify Wrapped Feature.
Spotify is a digital music streaming service that gives you access to millions of songs, podcasts, and videos from artists all over the world. As every year comes to an end, Spotify has a feature called Spotify Wrapped where you can see your personal top hits for the year.
The idea is that fans can get solid proof of their listening habits from across the year. It tells you the first song and the first new artist you listened to this year. It then reveals exactly how much time users spent listening to music in 2019 and their most popular artist of the year. Spotify also gave users a curated playlist of their most listened to songs and show their most played song of the year. 
Spotify has had this popular personalized feature for nine years. The streaming service aired their first Spotify Wrapped in 2010. This year it went live on Dec. 5, a day later than 2018.
This year, Spotify has decided to do something a bit different. Still maintaining their original features, they began showing how global your listening is by highlighting where some of your top artists hail from on a world map. Spotify users who have been with them for at least two years will get a personalized recap highlighting their top artist and total minutes streamed throughout the decade, as well as top artist and song for each year. Then, users are able to relive their top tracks in a personalized playlist, or take a look at the most-streamed songs on Spotify this year and throughout the decade.
Spotify Premium users will even get to go a little deeper, with access to additional personalized data stories and insights about their year in listening that includes the number of artists they discovered and the top artist they discovered this year.
Premium and Free users alike can share the results with friends, family, and followers through Instagram, Twitter, Snapchat or Facebook with a personalized "2019 Wrapped" or "My Decade Wrapped" share card. These are complete with a summary of your top tracks, artists, and genre from their listening history on Spotify.
Spotify expressed that as they reach the end of the decade, they are excited to give our users—listeners, artists, and podcasters—a look back on the past ten years in music and culture.