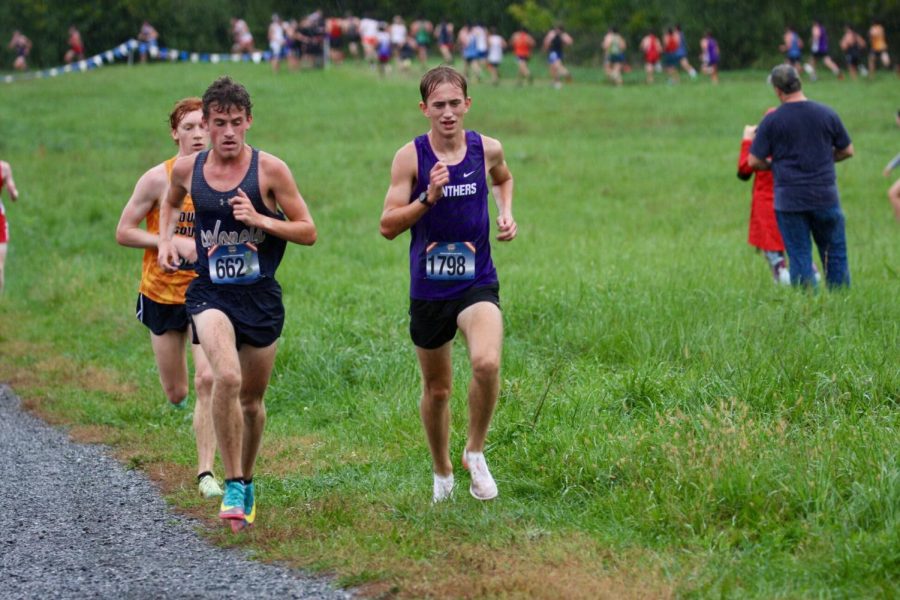 Varsity Cross Country Boys' Team Captain Hudson Barth advanced to state championships after ranking third in regional meet.
    Senior Hudson Barth established his rank amongst Virginia's fastest high school cross country runners in the past week's series of competitive 5k championship races. The Varsity Cross Country team closed their regular season and commenced their championship season at the 5A Region D Championship meet on Nov 4 in Albemarle, VA. Weeks of training prior to the regional meet went into the Varsity Girls' team's fourth place finish and Barth's 16:22 minute race time, his ticket to advancement for state championships.
    In preparation for the race, the team met daily to work on strength training, technique building, and speed work. "[Training for regionals was] harder than usual," said Barth. "Everybody was pushing a little harder than the regular season."
    On Oct 16, just weeks preceding the regional meet, Third Battle Invitational took place on a notoriously "PR-able" course in Winchester, VA. In this race, Barth placed fourth overall and made Third Battle home to his personal record of 15:44 minutes after running his first mile in 4:56 minutes, his second in 5:25, and his third in 5:20. Like most runners, Barth is keen to the exhilaration of PR-ing. "Crossing the finish line with a big PR is definitely the most rewarding thing [about running]," said Barth. 
    Further highlighting the rewarding aspects of cross country running, Barth revealed the satisfaction he feels with his position as team captain. "[The most rewarding feature as team captain is] just seeing everyone have fun and enjoy the sport. It's been pretty good being the leader and having the team look up to me," said Barth.
    As a team captain and dual-sport student athlete, Barth demonstrates leadership skills on and off the cross country course for his teammates and peers. "I play soccer, and it can be hard to balance. A lot of times, I'll have to skip soccer practice because of soreness or not wanting to overwork myself. Soccer used to be my number one sport, but now it's running," said Barth. "Soccer has taught me how to build stamina and work through pain and exhaustion."
    Following his third overall placing at regionals and individual qualification for state championships, Barth remained the only member of his team to continue cross country training, as many moved to begin preparation for winter track, Potomac Falls' newest athletic addition. 
    During the state meet, which took place on Nov 13 on Great Meadows State Course, Barth independently competed against over 35 teams from across Virginia. He clocked a 17:08 minute race time and placed 18th overall, an improvement from his previous season's 17:34 minute time and 21st place state championship ranking.
    Barth expressed his dissatisfaction with his state meet. "It was awful, and I'm still trying to figure out why. I think it was a lack of preparation for hills," said Barth.
    Despite his discontent, Barth revealed his optimism for the future, "After my race, I thought I'll just move on and focus on winter track." 
    In addition to fall cross country and year-round club soccer, Barth is also a member of the winter and spring track teams, both in which he partakes in the 1600m and 3200m races. He disclosed his running-related goals, near and long term. 
    "[In the near future], I hope to run a 4:20 minute mile and a 9:20 minute 3200m. [My] long term [goal] is to run collegiately," said Barth. 
    With application deadlines, strenuous recruitment processes, and the lineup of offers he is receiving, Barth is preparing himself for a future in collegiate athletics. Luckily for him, his performances throughout his high school running career ensure promise in his future.