2022 in Music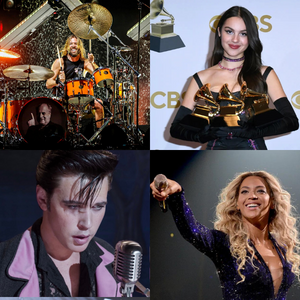 As the end of 2022 approaches, let's look back at some of the most notable moments in music.
January 7 – The Weeknd releases Dawn FM.
His fifth album, The Weeknd's Dawn FM was released at the beginning of 2022 and was well-received by critics and fans, with high reviews from sites like Metacritic and Rolling Stone. The genre was primarily pop with electronic and R&B elements present. The theme of the album was unique, with the Weeknd describing it as a "state of purgatory — a journey towards the light at the end of the tunnel."
February 13 – The Super Bowl Halftime Show throws it back to the 2000s.
The Super Bowl's 2022 Halftime Show was legendary, with icons Dr. Dre, Snoop Dogg, Eminem, Mary J. Blige, and Kendrick Lamar performing. The show was the first to be centered entirely around hip-hop music, and the first to win the Emmy Award for Outstanding Variety Special (live). It induced millennial nostalgia and left viewers nationally in awe.
March 25 – Foo Fighters drummer Taylor Hawkins passes away. On March 25, the Foo Fighters announced the death of their drummer and longtime friend, Taylor Hawkins. No cause of death was officially given. Tributes poured in from celebrities and fans alike, with a montage set to the Foo Fighters' "My Hero" playing at the Grammys a few weeks later. Two tribute shows were held in September in Hawkins' memory.
April 3 – The 64th Grammy Awards are held in Las Vegas. The show was hosted by Trevor Noah, and held surprise wins, as well as expected ones. For example, Olivia Rodrigo won Best New Artist, after a 2021 debut like no other. Silk Sonic took home Record and Song of the Year for "Leave The Door Open." The award for Album of the Year was taken by Jon Batiste for We Are. Batiste and Rodrigo took home the most awards, with 5 and 3, respectively. Some of the performances included BTS, Rodrigo, Billie Eilish, and Lil Nas X.
May 6 – Bad Bunny releases Un Verano Sin Ti. Puerto Rican rapper Bad Bunny released his fourth solo album and fifth overall on May 6, 2022. Reception was mostly positive, with praise pouring in for his style and the exploration of Latin music genres. Un Verano Sin Ti became the first Spanish album to receive a Grammy nomination for Album of the Year (the ceremony to be held on February 5, 2023), and Bad Bunny toured it throughout stadiums on the tail end of 2022.
May 13 – Kendrick Lamar releases Mr. Morale and the Big Steppers. The release of Kendrick Lamar's fifth album was the first time since 2017 he released something in hip-hop. Lamar is known for complex, meaningful music, and the same could be said for Mr. Morale and the Big Steppers. The record was praised for its themes, lyricism, and style, and many reviews called it surprising and vulnerable.
May 20 – Harry Styles releases Harry's House. Singer, actor, and former boy band member Harry Styles released his highly anticipated third album in May of 2022. It was preceded by the lead single, As It Was, and live performances of As It Was and Boyfriends at his Coachella performance. Styles dabbled in pop, funk, and rock genres, and explored fun songs as well as introspective ones. According to Styles, the concept of a 'house' was a metaphor for the inside of his mind. Harry's House had the biggest sales week in the U.S. up until October.
May 27 – Stranger Things 4 revives Kate Bush. Few could miss the resurgence of Running Up That Hill by singer/songwriter Kate Bush, originally released in 1985. The song was featured in the fourth episode of the fourth season of Stranger Things, and was used in a very significant scene. When the show became a worldwide phenomenon, so did Running Up That Hill. Spotify streams went up a whopping 9900%. It re-entered the Billboard Top 100, and charted number one in multiple countries.
June 24 – The Elvis movie leaves us All Shook Up. Headed by director Baz Luhrmann and lead by Austin Butler, Elvis was a movie following the life of Elvis Presley. It made 286 million dollars worldwide, becoming the second highest biopic ever. Butler was praised for his acting as the titular character. The soundtrack was also a hit, with popular artists covering classic Elvis songs, and Doja Cat releasing the original song Vegas. The movie got good reviews from both critics and the deceased Elvis' family.
July 15 – Lizzo releases Special and Steve Lacy releases Gemini Rights. July 15 was a big day in the music industry, with both Lizzo and Steve Lacy releasing albums. Special was preceded by the lead single "About D*mn Time," which many will remember as being everywhere for most of the summer. The album was overwhelmingly positive. Lizzo was notably described by critic Nick Levine of NME: "She's the bad b*tch with an incredible talent for making people feel good." Additionally, Gemini Rights was supported by the single Bad Habit, becoming Lacy's first number one hit. The album was rock and R&B, and praised for catchy songs and a summer-y vibe.
July 29 – Beyonce releases Renaissance. Like the record's title, Beyonce made her renaissance at the end of July, releasing her first album since 2016 and seventh overall. She explained that she recorded it during the pandemic, seeking to inspire escapism and joy in her listeners. With the track arranged like a DJ mix, she traveled through several genres, but most notably post-1970s black dance music. Renaissance was seen by mini critics as the best album of the year.
August 28 – All Too Well: The Short Film wins Video of the Year. An accompaniment to Red (Taylor's Version), Taylor Swift released a short film for her song "All Too Well (Ten Minute Version)" on Nov. 12, 2021. It was directed by Swift herself, and starred Dylan O'Brien and Sadie Sink playing doomed lovers in the lead roles. The film had special screenings at both the Tribeca and Toronto film festivals. Swift won multiple awards for it in 2022, including Video of the Year at the MTV Awards. The short film was also nominated for best music video at the upcoming 2023 Grammy Awards.
October 17 – BTS announces their military service. K-Pop band BTS made waves online when they announced that they would be fulfilling their mandatory military service. A hiatus was previously announced in June. There was a dispute over it, as many people worldwide wanted the members to get an exemption (offered to those who do service to their country in other ways, such as sports players or musicians). BTS brings millions into South Korean income, as well as being a major cause of tourism to the country. The government deliberated for months, but finally, BTS decided to serve on their own terms and go willingly as citizens. Member Jin was the first to leave on Dec. 12.
Oct 21 – Taylor Swift releases Midnights. Taylor Swift announced her 10th album, Midnights, at the aforementioned MTV Awards, a surprise that left many excited. Leading up to the release, she described the concept in depth – it was inspired by her sleepless nights, and explored the themes of self-hatred, revenge fantasies, "wondering what might have been," falling in love, and "falling apart." The album was a return to pop (after exploring the alternative genres with Folklore and Evermore), and she left audiences stunned by killer production and her typical amazing lyrics. Midnights topped the charts, and replaced Harry's House as the album with the most units sold in a week in the U.S.
November 15 – Ticketmaster crashes due to demand for the Eras Tour tickets.
After the release of Midnights, Taylor Swift announced an upcoming tour, her first tour since 2018 (six new albums later). Verified fans were able to register for early access to tickets. The day of the pre-sale, Ticketmaster was prepared for 1.5 million verified fans. An unprecedented 14 million showed up. The site crashed almost immediately, with some people waiting for up to eight hours in unmoving queues, getting through them to find seats either disappearing or already gone. In a following statement, Ticketmaster shared that two million tickets were sold, and allegedly, 15% of users experienced problems. Swift voiced frustration in her statement, stressing that Ticketmaster said they were prepared to handle demand, and apologizing to those who couldn't get tickets. The general sale was later canceled. The whole situation led to the Department of Justice opening an antitrust investigation against Ticketmaster and Live Nation.