Two Freshmen Find Their Place on Varsity
Freshmen Emily Powell and Sadie O'Grady take the court with the varsity team
This year girls basketball at Potomac Falls has a lot of freshmen coming into the program. Many of them made JV, but two of them, Emily Powell and Sadie O'Grady, stood out to the coaches and made varsity. 
Coach Lynn Ewald talked about the core reasons Powell and O'Grady were added to the team. "They both have a confidence about them," he said. "They were looking to be a part of the program any way that they could."
The transition from River Bend Middle School basketball to a varsity team was big for the two freshmen. "It was very different," said Powell. "Being on a high school team is a lot more work because you have practices every day," said O'Grady. 
Last year, the girls basketball team was composed of eight seniors. After graduating their entire starting line up, many thought this would be a rebuilding season for the varsity squad, but with an 7-3 record, the team is proving they are up to the task.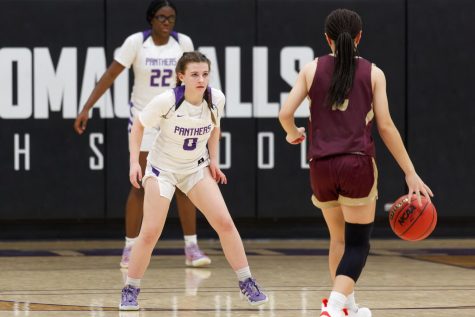 Coach Ewald has high certainty that Powell and O'Grady will be able to find their spot on the high school court. "I think they'll learn these things over the next couple of years, and then I'm sure they'll kind of understand and embrace that leadership role," he said.
As of now, both freshmen have had a decent amount of playing time, something they're both satisfied with.
Powell and O'Grady both believe overcoming their challenges is what got them here. They both struggled with confidence in the past, and getting over that hurdle worked out for both of them. "It'll help you show on the court that you're confident, and it will [also] show in the game," O'Grady said.
As the youngest and newest players on the team, Powell and O'Grady are both striving to keep their spot on the team. "Definitely extra pressure, but it's great," said Powell. "Being the youngest is a little scary, but the girls are really supportive," said O'Grady. 
Last year, the varsity team had a 9-10 record, and this year they've had big wins against Dominion (56-31)  and John Handley (46-25). Even in tight games, they've shown their  ability to come out on top against Loudoun County (42-38),  and Freedom (42-40). These next few seasons could hold a lot of surprises with all of the girls rising into basketball, and with so many freshmen getting involved, the future of the program could shine with success.