Sherlock Can Time Travel?
Review of 'The Abominable Bride' Sherlock episode
On January 1st 2016, fans of Sherlock were presented with a special episode to tease them about the upcoming fourth season which is rumored to premiere in 2017. This 90-minute special was different from the episodes in the past.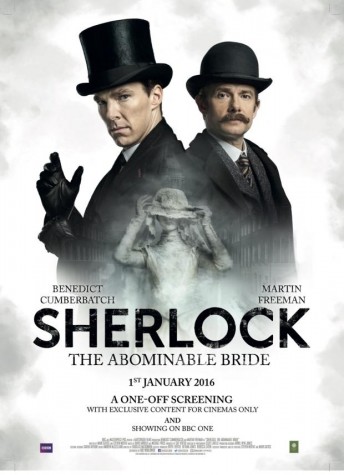 The title of this special was the Abominable Bride and made several jumps to present time and to the 1800s when the stories of Sherlock first originated. Watson, who is played by Martin Freeman, is seen as he was originally portrayed in the book, following around Sherlock Holmes, played by Benedict Cumberbatch, and recording their adventures as being detectives. The uses of the time hops are to let us in Sherlock's 'mind palace' as he tries to connect his present case with one that was never solved hundreds of years ago. We of course don't learn this until the end as we are put through the twists and turns of the episode.
 The crime that is presented to them starts off with a distressed bride shooting at men on the street, shouting "you?" several times before she exclaims "or me?" and shoots herself in the head. Of course everybody thinks that she is dead until she comes back and hunts down abusive husbands and kills them in the night.
 As Sherlock tries figure out how this is happening, things start to get a bit creepy, which I find is very unusual for most Sherlock episodes. In order to figure this case out, Sherlock uses a husband as bait to try to catch this 'ghost' and things start to get confusing as we flash back and forth, not knowing what is imaginary or in real time. One event that was very different from all past episodes was Sherlock going to dig up a grave of the abominable bride, in what we think is present time until we see the rotting corpse coming back to life.
 In the end it turns out that the gun never actually went off or killed the bride but was actually theatrics to start terrorizing abusive husband. It was a women's right group that set these killings up and anyone could dress up as the abominable bride to terrorize people. Once this is figured out we are sent back to present time and revealed that this is how Moriarty, the major villain in the past seasons, could be back.
 This was very odd, confusing, and all around weirder than most of the other episodes. It did not flow exactly with all of the other episodes and their plot lines, but this special did satisfy our thirst as we wait patiently, possibly another year, for the next season to arrive.


Hang on for a minute...we're trying to find some more stories you might like.