Top 4 Quarterbacks of All Time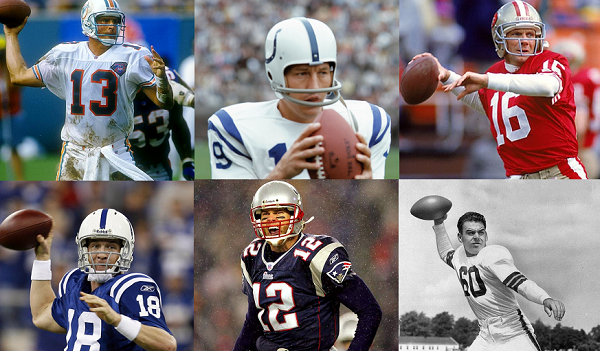 Tom Brady (New England Patriot: 2000- Present)
A sixth round draft pick, now five time Super Bowl winner, Tom Brady is now the best quarterback of all time. After Brady's seventh Super Bowl appearance he led his team to the largest comeback in Super Bowl history. After being down 21-3 at halftime at Super Bowl 51, Brady led his team to a 26 point second half comeback, sending the game to first over time in Super Bowl history.  Brady would lead his team down the field to secure a victory, giving him his fifth Super Bowl victory. 
Gif courtesy of https://www.tumblr.com/tagged/tom-brady-gifs
2.  Joe Montana 1979-1994 (San Fran. 49ers quarterback 1979-1991  Kansas City Chiefs quarter back 1992-1994)
The former 49ers QB was coached by one of the best of all time, Bill Walsh. Montana and Walsh were the pioneers of the pass-first offense. Montana led his team to four Super Bowl wins and won most valuable player in three.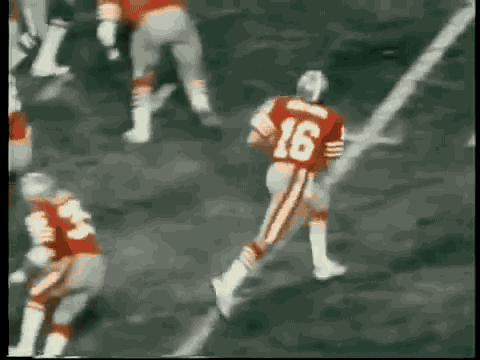 Gif courtsey of http://www.chiefsplanet.com/BB/archive/index.php/t-296168.html
3. Peyton Manning (Indianapolis Colts quarterback: 1998-2011 Denver Broncos quarterback: 2012-2015)
Peyton Manning, otherwise known as the Sergeant, or the King of Shootouts is number three. Manning is a two time Super Bowl winner and was named MVP in the 2007 championship game. Not only has Manning won two Super Bowls, he is a five time MVP winner, an NFL record. Manning also holds the record for most career passing touchdowns, single season passing touchdowns, and most wins of all time until Brady won Super Bowl 51 (Brady 201 wins).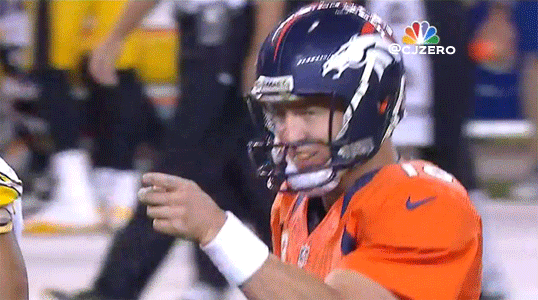 Gif courtesy of http://gifrific.com/peyton-manning-gives-thumbs-up-to-sidelines/
Dan Marino (Miami Dolphins quarterback: 1983-1999) 
Although Marino never won a Super Bowl, he was one of the most successful quarterbacks of all time. With no running back behind, Marino stood out among the rest with his arm strength and quick release. Marino was inducted into the Hall of Fame in 2005 after playing for the Miami Dolphins for 18 years. Marino held most of the passing records during his time until the passing era of football started.
Gif courtesy of http://ftw.usatoday.com/2014/10/aaron-rodgers-fake-spike-packers-dolphins-dan-marino

Hang on for a minute...we're trying to find some more stories you might like.