Meet Jack Taylor
Contestant for Mr. Potomac Falls
  Senior ballroom dancer Jack Taylor has been working hard to put together his preparations for the Mr. Potomac Falls competition (Mr. PFHS). One of the ways he's doing this is by planning to showcase his dance skills and finesse for the talent portion of the contest.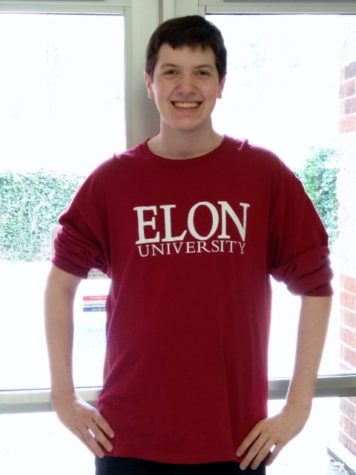 "I've been doing ballroom dancing for almost about nine years. I thought it would be kinda (sic) fun to bring that to Mr. PFHS because it's different. I can enhance it with comedy, and I have the general skill base for it."
  He's also hoping that his funny characteristics and humorous nature will help secure him a win for the competition.
  "I really want to show them all my charisma and different sides to my personality because Mr. PFHS is about being funny," said Taylor.
  The reason why Taylor will participate in Mr. PFHS is because of how he acknowledges that as a senior, this may be the last event he'll have the opportunity to participate in.
  "It's been something that I've looked up to for a while. It's always fun to put yourself out there, for me at least. I knew that it might not have happened if not enough people stepped up, so I thought, 'why not go for it?'. Go out there, be a little crazy and a little fun, and have a blast for my last main event at the school."
Q&A
Q. Team Edward or Team Jacob?
A. "I'm going to say Edward because I think he's taller and I'm tall."
Q: How do you feel about Czechoslovakia?
A. "I'm okay with them. I haven't learned about them in Comparative Government so I don't know a whole lot, but they're in Europe. I think they're in the EU, so I'm kinda (sic) in favor of them now."
Q. If you could be any song, what song would you be?
A. "I would be Moves Like Jagger by Maroon 5. That's because I dance, I'm out there like that, and I've got the moves like Jagger. I'm confidant, and I go for it with my dancing so that would be my song."
Q. Who is your spirit animal?
A. "It's honestly Ms. Hoilman, because she has so much energy every day."
Q. At a movie theater which arm rest is yours?
A. "The left one because I'm a lefty."
Q. What would your DJ name be?
A. "DJ New Heights, because I'm really tall and I could come up with some new beats that people wouldn't expect."
Q. Which Disney princess would you be?
A. "Moana, because she's independent. She's [also] confidant, and I am too."
Q. Tropical Smoothie or Robeks?
A. "Robeks."
Q. If you could choose to be raised by robots, dinosaurs, or aliens, who would you pick and why?
A. "I would pick aliens, because they still have emotion but are also smart like robots."
Q. Where is Waldo?
A. "He is everywhere."