Vampire Diaries: Like this? You'll love that.
Gone are the days where you are stuck debating whether you should binge-watch "Two and a Half Men" to compare pre-Kutcher and post-Kutcher episodes. This list will fill all your entertainment needs – and with Halloween around the corner, the vampire genre seemed like a good place to start.
Blood, love, and stakes is the simplistic formula for "Vampire Diaries" that made it one of the most popular teen series to date. The premise is quite simple and revolves around two main concepts, vampires and love triangles, then expands upon that with its characters and background stories. It pulls you in with the main romance of Stefan Salvatore (Paul Wesley), a good-natured vampire running away from his past, and Elena Gilbert (Nina Dobrev), a grieving teen trying to move forward. Both want to return to some sense of normalcy because of those tragedies in their lives. But supernatural forces and Damon Salvatore (Ian Somerhalder), Stefan's older brother, make them go backwards to a darker time.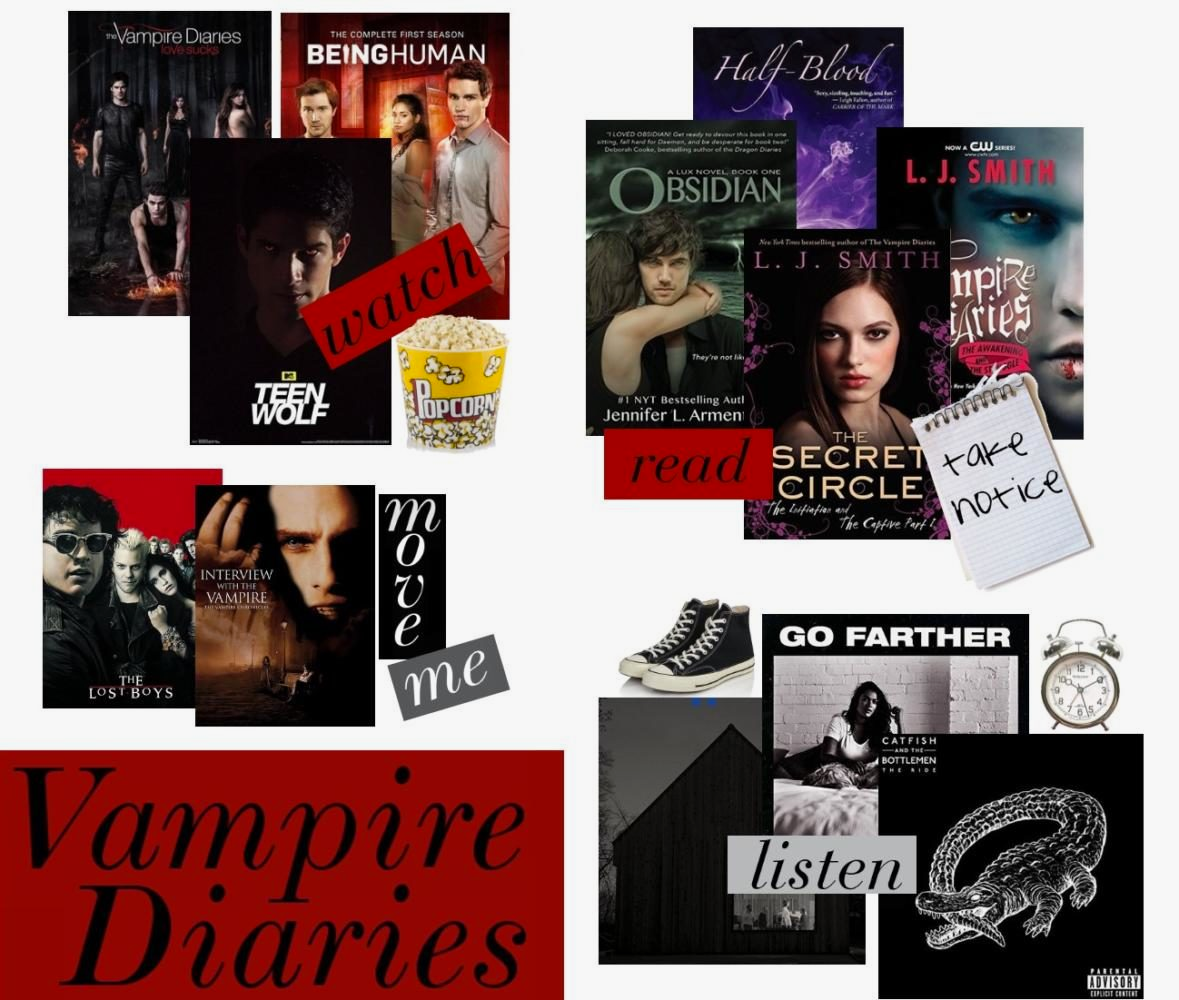 YOU'LL LOVE: TV SHOWS
If you love "Vampire Diaries" because of its drama with a supernatural twist, then "Shadowhunters" is going to be one of your favorites. It's another book adaption; this time coming from the Mortal Instruments series by Cassandra Clare. The will-they-won't-they of Clary Fray (Katherine McNamara) and Jace Wayland (Dominic Sherwood) is the main moving force behind the show, which mirrors the turbulent relationship of Elena and Stefan. Besides Clary and Jace, you can find solace in their adventures and Clary's struggle with her new life as a shadowhunter.
YOU'LL LOVE: MOVIES
"Interview with the Vampire" is a darker and more mature perspective on the vampire trope that is a literary and film favorite. A reporter (Christian Slater) interviews Louis de Pointe du Lac (Brad Pitt) who illustrates how he fell from his lifestyle as a southern plantation owner into the puppet-strings of Lestat de Lioncourt (Tom Cruise). With beautiful imagery and acting by both Pitt and Cruise, "Interview with the Vampire" is a thrilling movie to watch. It's tense and dramatic, offering a side to vampires that has a much more sinister edge than "Vampire Diaries."
Other notable vampire movies:
Let the Right One In
Lost Boys
YOU'LL LOVE: BOOKS
Let's start where it all began, the book series by L.J. Smith about Elena Gilbert and the Stefan brothers as they struggle with supernatural forces in their town of Fells Church, Virginia. While the show and the book originate with the same formula and premise, both drastically diverge from character origins to sibling genders. In the books, it's Meredith Gilbert as the innocent baby sister to Elena. While in the show, it's Jeremy Gilbert as her angst-ridden young brother. Not to mention how there are entirely different plot lines and villains than in the show. Now this doesn't take away from the books or the show in any way, in fact it adds to them. It doesn't feel as if you're reading a word-by-word translation of the books, which makes it more enticing as you get entranced by a whole new world from L.J. Smith. It's a must-read if you need a nice break from the glare of a television.
Other notable books:
The Secret Circle Series by L.J. Smith
Luxe Series by Jennifer L. Armentrout
Deity Series by Jennifer L. Armentrout
Penryn and the End of Days Series by Susan Ee
Notable books if you like "Interview with the Vampire":
The Vampire Chronicles by Anne Rice
Dracula by Bram Stoker
YOU'LL LOVE: BANDS
For those times after you watched an intense episode and must catch your breath in-between, which happens quite often with Vampire Diaries:
Catfish and the Bottlemen
Gang of Youths
Lime Cordiale
Airways
Ill Spector
Declan McKenna
Hippo Campus
Miniature Tigers
Cub Sport
The National
Will Cookson