A Time to Rebuild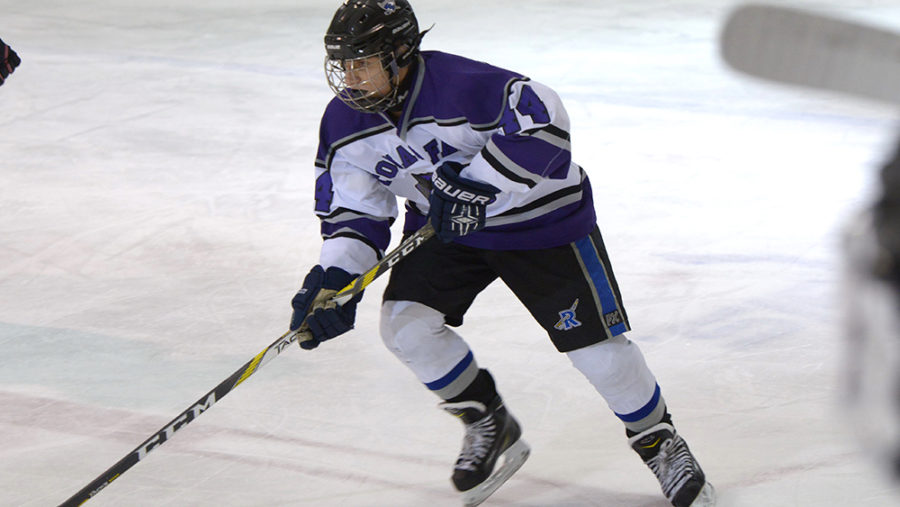 The young Potomac Falls ice hockey team prepares for a tough season
When a team loses seniors at the end of a season, it is always a hard thing to recover from, but for the young Potomac Falls Ice Hockey team this means an opportunity to rebuild.
Last season, the Ice Hockey team lost four seniors including goaltender Logan Adams. The past two years combined have brought in almost a dozen freshmen to play varsity. Now, a varsity team that has no seniors and only two juniors requires some younger players to step up and take leadership roles.
"It's a little nerve-racking to be in a leadership position, but it's all good," said junior Bennett Hamilton, who is entering his third season as a left winger on the team. Hamilton is taking on an assistant captain role this season. "I'm not really sure why last year's captains chose me, but I'm going to try my best to do a good job," said Hamilton.
Potomac Falls was placed in a division with the three time defending state champions Stone Bridge High School. "It's going to be a tough season this year, but we're just looking for our players to improve," said head coach Mark Dumas.
Being a young team the coaches are looking for big seasons out of freshmen Jake Dumas and Sean Dunn. "I'm not really sure what to expect, but I think I'll do ok," said freshman Sean Dunn.
Dumas and Dunn lead a class of six freshmen who are joining the team this year.  "I'm a little nervous, but I'm excited to get the season started," said freshman Jake Dumas.
Another name to know is freshmen Derick Osterberg, who is the new goalie. "Being a Freshmen goalie is a tall order, but he can do it," said Coach Dumas.
Osterberg is replacing former Goalie Logan Adams. "I don't know if I'll be as good as Logan. I definitely won't be as a freshman, but I'll do my best to match up with how good he was," said Osterberg.
After a disappointing season, last year, the Potomac Falls Ice Hockey Team is looking for improvement rather than dominance. Be sure to keep an eye out for the team's first game which will be posted on the Potomac Falls website under Ice Hockey club.
"There are going to be some games that I think are probably long shots, and there will also be some games that I think we can win, so we're just trying to win those games that we think we can win," said sophomore Frank Ellingwood.