Your Christmas Watch-List
Grab a blanket, some hot chocolate, and check out this list to find the very best episodes of all your favorite TV shows to help you get in the Christmas spirit
The Office: "Christmas Party" Episode 10, Season 2
The office decides to hold a "Secret Santa" swap at their Christmas party, leading to a fight between the coworkers for the best present. A distraught Jim joins the fight when his thoughtful present ends up in the wrong hands. Watch this episode if you want a bunch of laughs and a few heartfelt moments.
Best line: "I got myself for Secret Santa. I was supposed to tell somebody, but I didn't."- Kevin
Friends: "The One with the Holiday Armadillo" Episode 10, Season 7
Ross decides to teach his son Ben about Hanukah, which causes Ben's disappointment that he won't see Santa Claus. However, Ross has a change of heart and decides to teach his son about both Hanukah and Christmas. His change of heart makes him rush out to get a Santa Claus costume, only to turn to an alternative when the shop runs out of those costumes. Meanwhile, Phoebe tries to stir up trouble between Joey and Rachel, and Chandler tries to learn a new skill.
Best line: "What are you doing here… weird turtle man?"-  Chandler
The Simpsons: "Simpsons Roasting on an Open Fire" Episode 1, Season 1
The Simpson's each want different things for Christmas. Bart wants a tattoo. Lisa wants a pony. But when Homer doesn't receive a Christmas bonus, the family must face the fact that they are too broke to buy presents. Can Homer's new job at the mall save the Simpson's Christmas?
Best line: "Err… 'Rudolph, get your nose over here,"
So you can guide my sleigh… today.'" – Homer
Grey's Anatomy: "Grandma Got Run Over by a Reindeer" Episode 12, Season 2
The hospital treats a man who fell from his roof while putting up Christmas lights while Izzy goes overboard with her Christmas spirit and Meredith and Derek long to spend the holiday together. Meanwhile, George and Dr. Bailey treat a patient with a difficult family.
Best lines: "Anxiety attacks, aneurysms, and ulcers."- Dr. Webber. "Must be December."- Dr. Bailey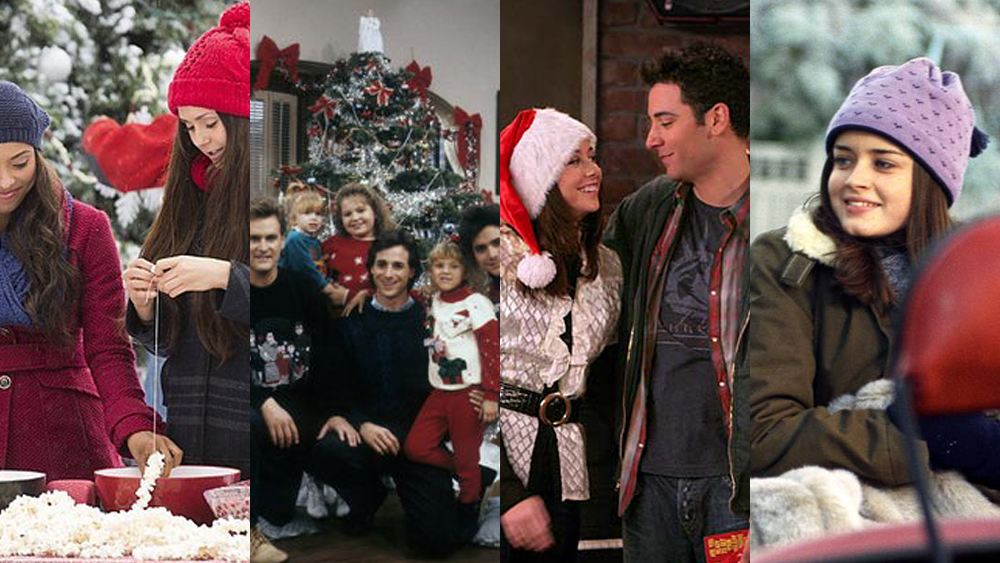 Gilmore Girls: "Forgiveness and Stuff" Episode 10, Season 1
Richard and Emily are throwing a Christmas Party, but will Lorelei be invited? Also, a near-tragedy brings the gang together for an unconventional Christmas and Luke cooks Lorelei a special treat.
Best line: "You made me a Santa burger."- Lorelei
Full House: "Our Very First Christmas Show" Episode 9, Season 2
The Tanner family is traveling to Colorado for Christmas, but a blizzard strands them in an airport on Christmas Eve. Stephanie worries that Santa won't be able to find her and Danny gets an attitude-check along with an airport full of Christmas music. Settle in with a comfy blanket and a mug of hot chocolate for this feel-good episode.
Best line: "Operator, if Santa's not listed, then give me the number for Mrs. Claus."- Stephanie
Vampire Diaries: "Christmas Through Your Eyes" Episode 10, Season 6
Bonnie desperately tries to replicate her favorite things about Christmas while the others attempt to find and capture Kai. Meanwhile, Sheriff Forbes brings Christmas to Caroline at college, and Tyler and Matt hunt for Enzo.
Best line: "What could possibly not make sense about magical twins absorbing into one another?" – Damon
How I Met Your Mother: "How Lily Stole Christmas" Episode 11, Season 2
Lily has decorated the entire apartment with Christmas decorations and is ready to spread the spirit when she comes across an old answering machine message from Ted. He uses a choice word that greatly offends her. In retaliation, she steals all the Christmas decorations from the apartment so Ted must work to mend their relationship. Meanwhile, Barney denies that he has a cold.
Best line: "She took the decorations? That Grinch!" – Ted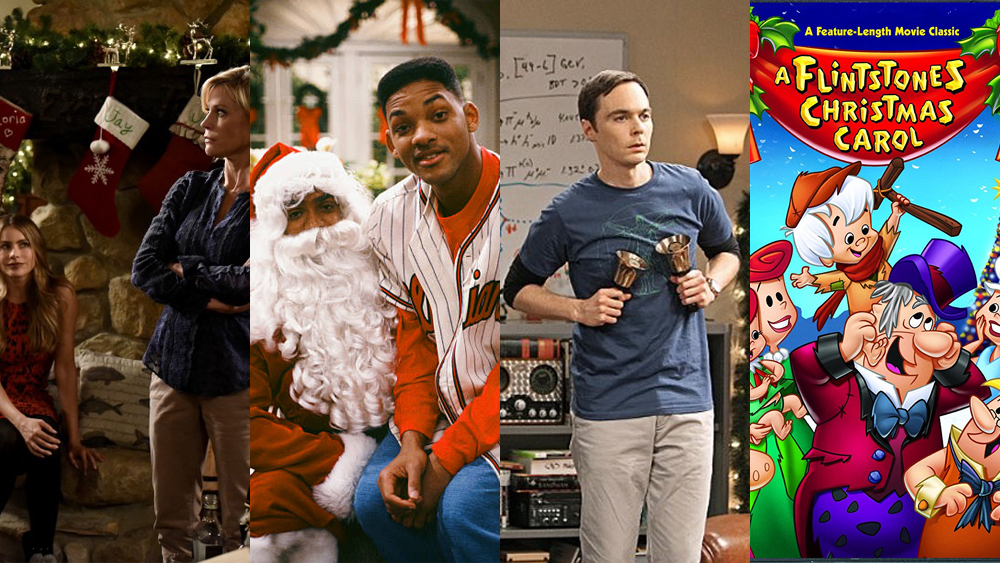 Modern Family: "White Christmas" Episode 9, Season 7
Gloria rents a cabin for the family in the hopes of achieving the snowy Christmas she has always dreamed of, but the weather does not cooperate. Meanwhile, Cam and Mitch attempt to make up for their bad caroling performance of the previous year and Jay has a big announcement.
Best lines: "Snow! Our miracle for Christmas."-Gloria "That's not snow, that's ashes from a forest fire."-Fig
The Flintstones: "A Flintstone Christmas" Television Special
Wilma tries to convince Fred to dress up as Santa for the Bedrock Orphanage Christmas Party while they decorate the house for the holiday. Later, Fred and Barney meet an unexpected guest and must take his place if they want to save Christmas.
Best line: ""Christmas, bah humbug! Christmas, bah humbug!"- Fred
The Fresh Prince of Bel-Air: "Deck the Halls" Episode 15, Season 1
Will wants to feel at home for his first Bel-Air Christmas, so he decorates the Bank's home with non-Home Owners Association approved decorations. His neighborhood protests these decorations. Can Will and his decorations when them over?
Best line: "Wait a minute – there is no Milli Vanilli… but there definitely is a Santa Claus!"- Will
The Big Bang Theory: "The Santa Simulation" Episode 11, Season 6
The guys exclude the girls from playing "Dungeons and Dragons," so the girls go out for a fun night that Raj decides to join. While playing the game and complaining about Christmas, Sheldon reveals why he is so opposed to the holiday and later gets a special visit from Santa himself.
Best lines: "What's wrong with Christmas?"- Stuart
"Oh, where to begin? Trees indoors. Overuse of the words 'tis and 'twas. And the absurd custom of one stocking. Everyone knows socks belong in pairs. Who uses one sock?"- Sheldon

Hang on for a minute...we're trying to find some more stories you might like.