Spring Sports: Where They've Been and Where They're Going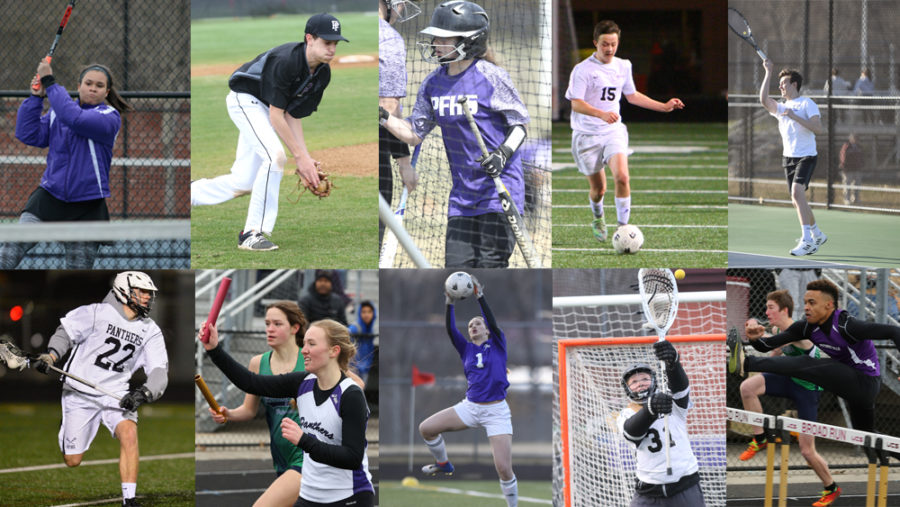 From defending state champions to young teams searching for a win, the spring sports athletes have all taken the field ready for competition.
Now a week into April, spring sports are in full swing. Some spring sports are hoping to improve from previous seasons while other are hoping to maintain their winning records.
For the past two years girl's lacrosse has absolutely dominated their competition. With back to back state championships and a goalie who recently committed to play Division I lacrosse at Virginia Commonwealth University, the team knows pressure – both how to apply it and now, how to deal with it. Though they graduated much of their starting lineup, with junior Grace Hyde, VCU commit, protecting their goal, the expectation is that not much is getting past the girl's lacrosse team this season.
"Grace is a great goalie, she has lots of great attributes on and off the field; she is outgoing, a leader, and very easy to get along with," said freshman goalie Lily Beth Tuma.
Coach Brian Decarli, who started coaching back in 2014 when his oldest daughter, Molly Decarli, played at the school, is now going into his fifth year of coaching – this year as the head coach. Decarli has stayed to coach his youngest daughter, junior Madelyn Decarli, and share the success with this winning team.
"I am fortunate to be able to continue with Madelyn and Grace Hyde, who I have had the pleasure of coaching since they started in youth lacrosse," said Decarli.
On the other hand, the boy's lacrosse team has had a more challenging experience facing several coaching changes over the years. With new coach Jason Burke, better known to his players as "Choppy", this season the team is hoping to improve its record and overall morale as a team.
"The new coach [Burke] was a really good move for the program. It's always a little rough changing coaches, but this year has been easier than in the past," said senior varsity lacrosse player, Xander Detorie.
Experiencing his first year coaching lacrosse here, Burke said he is excited for what the future may hold and what this upcoming season has in store.
"I coached football and track at Potomac Falls a long time ago [in 2000 and 2001]. That was my first ever job as a high school coach; [it was] before lacrosse was a high school sport in Loudoun. I'm excited to return and coach lacrosse," said Burke.
A lot like 2017, the boy's tennis team is hoping to have another triumphant season and return to states. Falling short in the semifinals, junior duo Konrad Siebor and Aaron Thede battled far into their season last year.
"I think as a team we can do better this year. I think our top six lineups has gotten better. And Aaron [as the number one] is getting better every year, and as an individual playing singles, he can do better as well," said Siebor.
Boys tennis coach Nick Puszert has been with the team for five years. He believes the future is bright for the team due to several contributors on the team.
"We have a lot of experienced players who can easily play in the top six spots. It will be challenging each day to determine who will be playing in those six spots for each one of our matches," said Puszert.             
Coach Lauren Gibson has been with the girl's team for the past three years and is looking forward to spending time with her team and strengthening her bond with these girls as the season goes on.
"Tennis is a cool sport because girls are working for both the team record and their individual record. Kathleen Pollard is our number one player [tennis goes by ranking], and she has really come into her own as a tennis player. I think she will have a great season.  We also have two freshmen, Kayla Lim and Willow Palmer, that I see a lot of potential in," said Gibson.
Beginning her third year on the team, junior Kathleen Pollard is not only a leader but a friend to her teammates. Being ranked number one on her team she is setting an example for the other girls on the team.
"[Competing at the highest level] is  very challenging because a lot of people are really good. Tennis is my sport, so every single weekend I practice and I practice my serves it is good to be able to compete with people at the same level as me," said Pollard.
One of the larger teams at the school, track, has many different people and components that make it whole. The team is lead by Coach Kevin Richards.
"With such a large team, it is challenging to keep everybody focused on our team goals throughout every practice and competition.  I am hoping some upperclassmen will set a strong example for the rest of the team as the season progresses," said Richards.
Junior Tyler Pride hopes to be a strong leader for his team and set a good example for the other runners. Him and Alumnus Jay Shird, senior Robert Allen, and junior Evan pride hold the record for the 4×1 relay. He placed first in long jump, first in 110 hurdles, first in 4×1, first in the 22, and second in high jump in the teams first met of the season at Broad Run.
"My favorite thing about track is meeting new people because we are all at the meet for different reasons and we all get to learn new things about each other," said Pride.
With a team built off their strong senior class, baseball is hoping to not only have a strong season but to make it beyond regular season play. They had their first win of the season on April 4, beating John Champe 7-0. Sophomore Nate Savino and senior Max McAdams combined for a no hitter.
"Our senior group has been in the shadows the past two years. I'm looking forward to seeing them in leadership positions on the field," said varsity baseball coach Joseph Terrango.
Freshman Pitcher Matt Weber is experiencing his first year on varsity, but it isn't his first year competing at the high school level. He played on the JV team last year as just an eighth-grader.
"We have a lot of seniors this year. I watched them play in little league, and I finally get to play with them which is pretty cool," said Weber.
Softball is going on its second year with head coach Megan Hardy, and the team is enjoying every second of it. Sharing her knowledge and experience of the game that she collected while playing collegiate softball at Miseracordia University, she is hoping to improve the teams record.
"This season, I am looking for our team to improve upon our ability to manufacture plays offensively and score more runs," said Hardy.
Freshman starting outfielder Laurenne Gallagher is hoping to contribute to team's success. The team beat Dominion 23-9 during their home opener on March 13.
"To me, playing a team sport such as softball motivates me to go out and do the extra work for my teammates. In a game, me going that extra step will improve the team's stats as well as my own," said Gallagher.
Girls soccer opened their season 2-0 with wins against Dominion, 4-1, and John Champe, 2-0. Senior Jessie Touve is excited for her last soccer season at the high school level. She hopes to continue her soccer career in college. After committing to University of Cincinnati as only sophomore, she decided to de-commit this year.
"It wasn't going to be a good fit anymore. I have received offers from multiple other schools, and am trying to decide which school I want to attend. Depending on which school I go to, I will either play soccer or swim and play soccer for my college," said Touve.
Boys soccer, in a competitive conference, is hoping to make progress from last season. They opened the season with two losses – against Dominion and John Champe. Despite their competition, head Coach Stephane Longchamp wants to see his team succeed.
"Our number one challenge is our competition. Briar Woods won the state championship last year, and I believe our conference is the best in the state," said Longchamp.
One of the captains, senior Jia Yang Choo is hoping to use his skills to improve upon the team's 0-16 record from the previous season.
"Last year we went 0-16 which wasn't the best. A lot of the problem was how some players weren't as committed as others. But this year it's a lot better, so hopefully we have better results. This year the players are more committed to the game," said Choo.