Girls Soccer Remains Undefeated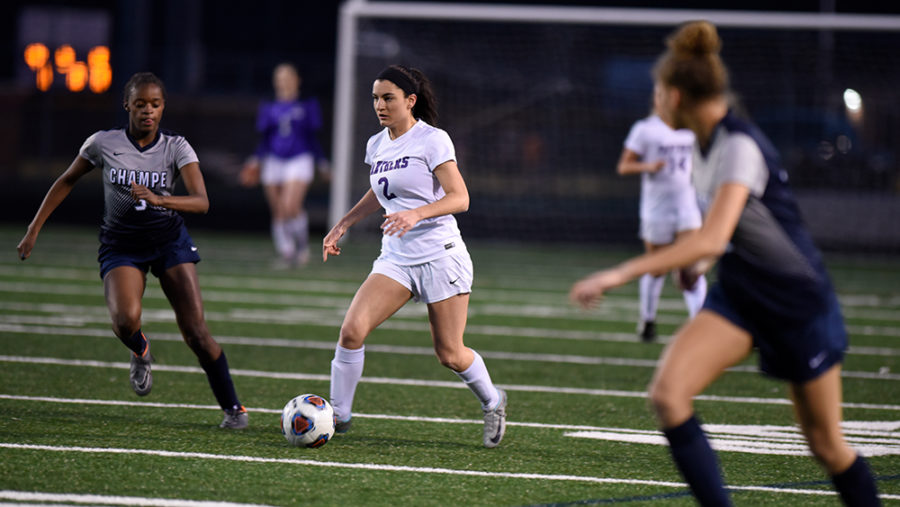 Opening the season with six wins and one tie, the girls varsity soccer team looks to keep the momentum going
Less than halfway through the season, and with six wins, one tie and zero losses, the girls' varsity soccer team has already improved upon their four wins, one tie, and 12 loss season the past year.
With underclassmen stepping up and upperclassmen giving their last seasons all they got, the team has improved immensely.
"My mentality for this season is to leave it all on the field. There is no more next season so I really want to make the most of this season whether it be the actual game or bonding with the team. I think a major difference between our team last year and this year is the mentality during practice. Everyone comes out every day wanting to get better and work together," said senior captain Asha Silva.
The team is currently leading their conference after Briar Woods High school beat the previous conference leader, Tuscarora High school. The team is taking advantage of all the opportunities presented to them this season.
With a dominant 2-0 home opener win against John Champe, who just entered the same conference this year, the team started off the season on a good note. They had a 5-game win streak until tying Briar Woods on Thursday, April 12. Up at half and throughout majority of the game, Briar Woods scored with just a minute left in the game, making the final score 3-3.
Along with Silva, senior captains Stephanie Son and Sarah Robertson are hoping to finish their high school soccer career strong. The three girls set an example for their teammates while having fun at the same time.
Both Silva and Robertson have been playing varsity since their freshman year. The level of competition is nothing new to these girls, but with new and challenging teams being added to their conference this year, the team has come together to take down any challenge they face.
"This season has already become my favorite season to have played yet, the whole team just seems to get along so well and there is an atmosphere of 'we want to win and we are going to do it together' that we didn't have last season," said Robertson.
Contributing heavily to the teams wins, sophomore Ashley Pandelides leads the girls' varsity soccer team in goals so far this season. She made had varsity her freshman year and has been proving herself ever since.
"The last person technically to pass the ball to me will get the assist, so it's a lot of unselfish plays by my teammates to get me the ball so I can score," said Pandelides.
The team plays the number two team in their conference, Tuscarora tonight at 7pm. Come out and support them as the fight to keep their number one spot in the conference.