Opinion: The Amazon Deal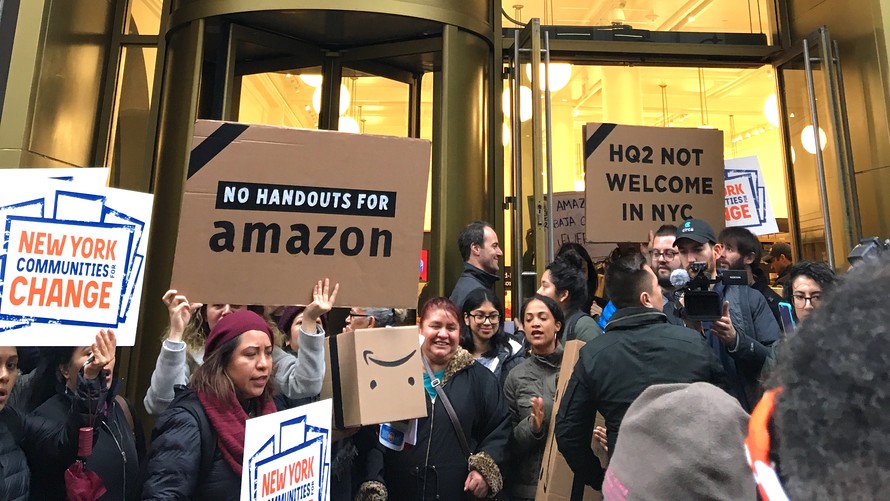 Why did this trillion-dollar company need billions in tax breaks?
You've all probably heard about the Great New Amazon HQ2, but if you haven't, here are the basics: after lamenting the incentives offered by cities across the US — many of which included massive tax breaks and were valued as high as $8.5 billion — Amazon has decided to split their second headquarters in half, creating locations in Virginia and New York, and add an additional, smaller Tennessee center.
Each state offered its own benefits to Amazon: New York gave direct subsides totaling more than $1.5 billion on the condition that at least 25,000 high-paying jobs would be created. Virginia gave $573 million under the same requirement, and any additional jobs in either state would add more subsidies for the online retail giant. Nashville doled out $102 million for their 5,000-job building. The company explained its reasoning by emphasizing the need for regional tech talent, but it's also worth noting that CEO Jeff Bezos owns homes in both HQ2 areas.
These deals definitely do provide positives to their respective communities. Take Virginia, for example: Virginia's agreement also comes with promises by the state to invest $195 million in transportation infrastructure as well as $1 billion for higher education in tech. The new office, slated to be built in an area that's being called National Landing, encompasses two Arlington neighborhoods in Crystal City and Pentagon City as well as the Alexandria neighborhood of Potomac Yards. In theory, it will create a large amount of high-paying jobs and bring more tech companies that are looking to work with Amazon to Alexandria, Arlington, and the wider DC area.
Meanwhile, though, people living near the buildings are stuck with some of the more negative effects. Rent near Crystal City has started to climb before construction has even begun, adding to the Arlington area's already severe lack of affordable housing. In New York, protesters in the second HQ2 location, Long Island City, held demonstrations during Cyber Monday, with activists stressing the fear of gentrification and decrying the billions of dollars in subsidies given as incentives to Amazon.
Whether or not these cities are equipped to handle the problems that come with the new offices is certainly a concern, but a more pressing one is Amazon's ability to leverage their massive influence and get cities to throw billions in benefits at them.
Put simply, they do not need any subsidies. The idea of a company with a trillion-dollar market value relying on a handout is absolutely absurd on its face.  It's understandable for Amazon to want promises from cities to invest in transportation and other infrastructure improvements. These undertakings would provide immediate benefits to people in the area as well as Amazon. With something like a tax break, though, the city is banking on receiving enough of an economic boost to justify the cost. And maybe they would recoup those billions of dollars eventually. But Amazon, not the city, will still see far more of the benefits. Billions of dollars are a massive price to pay for tens of thousands of jobs.
Going back to the locations themselves, the fact that Besos has homes in proximity to both new offices adds credibility to the argument that Amazon already had a strong idea of where they wanted to build their headquarters and only entertained proposals from other cities to hold more bargaining power over the handful of locations they were really considering. If this is indeed the case, it makes the HQ2 bid race even more lopsided.
Besos — the wealthiest man in the world, a man worth $137.6 billion — is toying with states to get billions of dollars in discounts to build offices that will likely serve to further the economic inequality that's already extremely prevalent in the country. That divide is one we should be working to fix, and that's no easy feat. For now, at least, cities need to stop chasing companies and playing the billionaires' games. It wouldn't be such a bad thing if they lost.