LightUP Fest Comes to OneLoudoun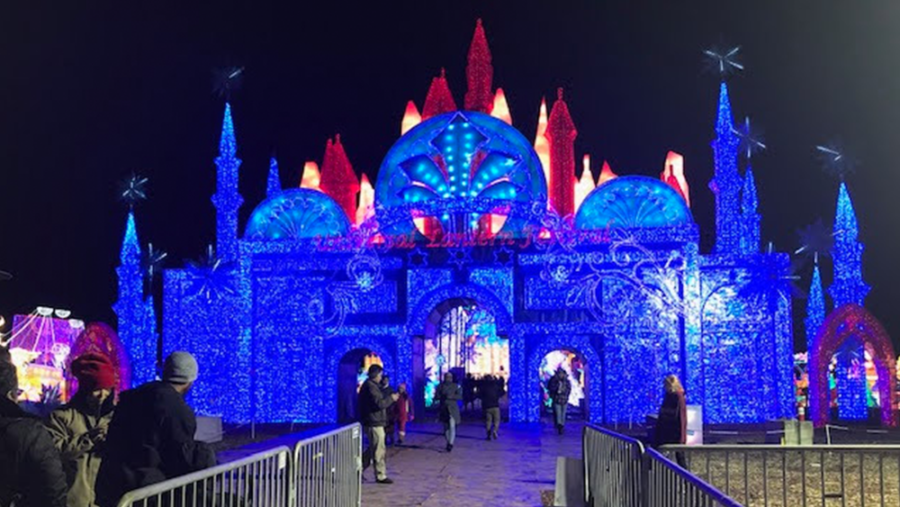 LightUP Fest comes to One Loudoun this year and it sheds light on different culture, animals, and fantasy.
Anyone who has driven down Route 7 this month has noticed the giant structure being built by One Loudoun. It has been weeks in the making and on Nov. 10, the LightUp Fest opened.
According to the LightUP Fest's website, "The LightUP Fest is an eight-week exhibition that combines the latest lighting technology and artisan crafted lanterns to showcase the rich heritage, tradition and culture of the world." People spend around 45 minutes there to watch one of the acrobatic shows and walk around. Adult (ages 13-64) tickets are $29.99. It is open every day from 5:30 p.m. to 10:30 p.m. unless there is poor weather, including rain and snow.
Senior Jessica Hazlett is just one student who attended LightUP Fest this winter. "I would definitely [say]  it's a good thing for families to go to because there is stuff for all ages and it's really pretty and there's was a cool show [and] that can be entertaining for anyone," said Hazlett. "I have two siblings [in] college and they came home for the weekend so my family wanted to do something together, so we all went. It was just good quality bonding time."
The exhibit is split into four main themes: Tour of Fantasy, Freedom America, Mysterious East, and Magical World. It is structured for people to explore at their own pace, but also features a main stage where performers do everything from music to acrobatics.
LightUP Fest also has a food and market area filled with food trucks that contain different types of food, from Chick-fil-A to asian cuisine. One truck even features sugar painting which is painting with caramelized sugar. They made different flowers, dragons and other cultural symbols. Once it's cooled, it's ready to eat.
"Curbside Kitchen is proud to power the food truck experience for this year's Light Up Festival," according to the LightUp Fest website. The market also sells different trinkets and jewelry.
Each area boasts its own thematic features; the Freedom America section contains the Capitol Hill building and the Statue of Liberty, the Tour of Fantasy has magical carriages, and A Magical World features current and prehistoric animals and a maze for kids. Finally, the Mysterious East shows off the culture of eastern Asia. It contains the 12 animals of the Chinese new year, and a huge temple in the center.
Parts of the exhibit are interactive, while other areas prohibit touching. The interactive areas include a light up peg board where visitors can leave a lit up message or picture, stationary bicycles that people can ride that will power up big hearts, and there are rides from the One Loudoun carnival that are lit up.
"There was this one section that had these big ring swings that were light up and that you could sit in and they were really cool for pictures and they changed colors and that was really fun," said Hazlett
LightUP Fest is a travelling light show; they travel around the country and display their show to everyone. The LightUp Fest is open from Nov. 10 to Jan. 2. The LightUP Fest's website claims "This is a must see event for all."