"Rocky" Franchise Recap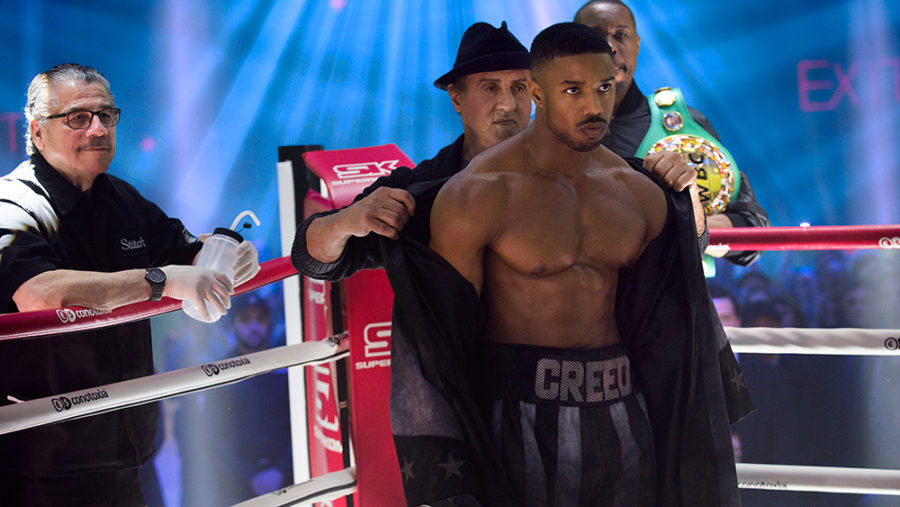 A look back at Hollywood's most prolific sports franchise
Over the years, we've had some pretty good sports movies, but few compare to the Best Picture Winning, "Rocky". Sylvester Stallone wrote and starred in the classic and the films surprising success gave birth to an eight-movie franchise that has pulled in an estimated $1.4 billion at the box office. Last weekend, the pride of Philadelphia returned to the big screen in Creed II as Adonis Creed's mentor. The movie got pretty good reviews, so if you're planning to see it, you'll probably need a reminder of what has happened so far in the series. Here is the history of the Rocky Franchise.
Rocky (1976)
The original classic follows Rocky Balboa, a low life boxer in Philadelphia who gets a lucky opportunity to prove himself in a fight against the heavyweight champion, Apollo Creed, in the ultimate "pull yourself up by your bootstraps" story. It's a classic through and through, and deserves a spot as one of the best sports movies ever. Powered forward by Sylvester Stallone, who pretty much "Rocky-d" himself to the Oscars by writing, producing, and acting his way into the history books.
Rocky II (1979)
Just three years after the original, Rocky returned in a similar story, to fight Apollo Creed once more, this time with the heavyweight title on the line. Stallone took even more control of the franchise, becoming the director along with his roles from the first film. While not quite as good as the original, if that were even possible, "Rocky II" delivers on all the things a "Rocky" movie promises, and continued the franchise on the right path.
Rocky III (1982)
Rocky is officially the champion and after defending the title multiple times, arrogance gets the better of him, and he falls to an up incoming star James Lang (Mr. T). Forced into the underdog position once again, Rocky joins forces with his former enemy, Apollo Creed, to retrain and fight Lang one more time. Nowhere near as good as the first two, this "Rocky" brings the twist of Apollo as an ally and introduces Mr. T as the main villain.
Rocky IV (1985)
We've seen Rocky punch Apollo Creed, we saw him punch Apollo Creed more, then we watched as he punched Mr. T. Now at the height of the Cold War, it's time for Rocky to punch… Communism. After retaining his heavyweight title, Rocky is challenged to a fight by the man who killed Apollo Creed; Ivan Drago, a stereotypical, steroid-taking, Soviet, killing machine.  While reviews are the worst so far in the series, the patriot in me knows that this movie is awesome.
Rocky V (1990)
Following Rocky's defeat of communism, he retires and begins life as a family man. However, his relationship with his son, Robert, is put in jeopardy when Rocky's former student, Tommy Gunn (Tommy Morrison) betrays him. Forced to defend his honor, Rocky fights his student in a massive street brawl, and then somehow repairs his relationship with his son. This is the worst "Rocky" movie by far. Oh 1990, year of great stand-alone movies, and series killing sequels.
Rocky Balboa (2006)
30 years after Rocky first fought Apollo Creed, things have changed for our hero. In a needlessly depressing twist, anybody Rocky ever loved is either dead or distant, and Rocky owns a restaurant to pay the bills. But when an ESPN computer simulation reignites Rocky's fighting spirit he takes to the ring again to battle the current heavyweight champion. This movie redeems "Rocky V" and puts the series back on the right track, but I still have trouble believing that Rocky could fight, given that he was 61 in this movie.
Creed (2015)
Rocky, now a boxing trainer is approached by Adonis Creed, Apollo creed's son, to train him for an upcoming fight against the world champion. The second-best film in this franchise, "Creed" rekindles the Rocky franchise by adding a few new elements to the same general story, and a brilliant performance by Michael B. Jordan as Adonis. That's the way you keep a series going.
Creed II (2018)
Following the events of the first "Creed", Rocky continues his tutelage of his former friend's son. Creed's next challenger is Viktor Drago, son of the Russian killing machine that Rocky faced previously. While reviews haven't been quite as good as its immediate predecessor, it has still drawn solid reviews from critics and