Review: The Galaxy Watch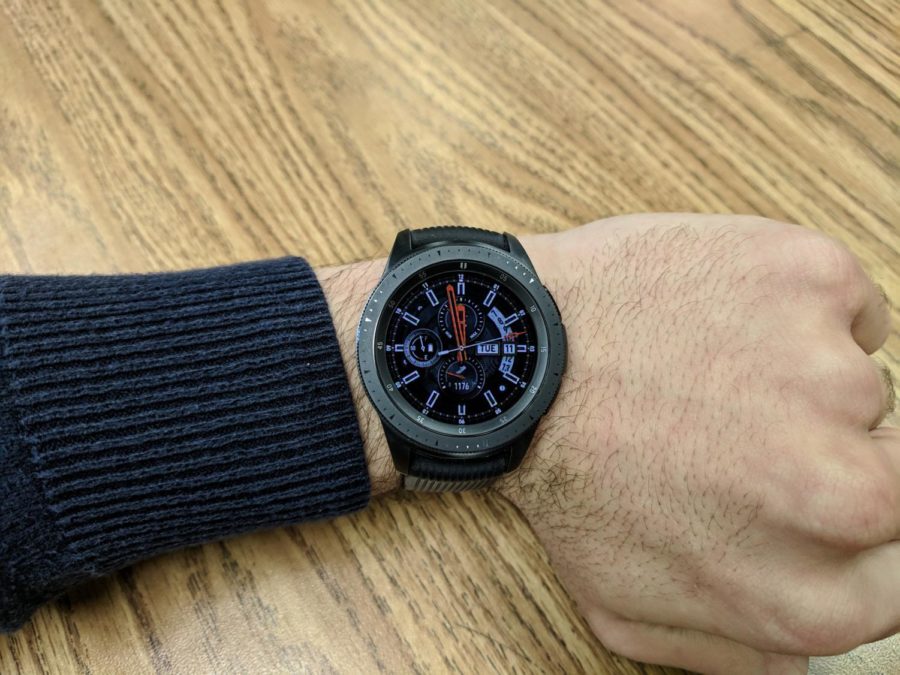 Great hardware with a few software caveats
Google's Wear OS platform (formerly Android Wear) was the first one used in modern smartwatches. In 2014, it launched with Samsung's own Gear Live, among other watches, beating Apple's own watch by a year. However, since then, Samsung has transitioned away from Wear OS, opting to run their smartwatches on their own operating system, Tizen. The newest Tizen watch, the Galaxy Watch, is the latest refinement in Samsung's great line of smartwatches.
The design and look of the Galaxy Watch feel premium, with a stainless-steel rotating bezel and body similar to its predecessor, the Gear S3. Unlike the Apple Watch Series 4, which has a square form factor, Samsung's round design makes it look more or less like a typical high-end watch. The crisp, bright AMOLED screen — which can run in a full color, always on mode — further helps emulate the look of an analog watch, and with over 60,000 different faces on the Galaxy Wear app store, there's tons of looks to choose from. Design is always subjective, but for me, round beats square when it comes to watches.
The watch comes in two sizes: the 46mm Silver version and the smaller 42mm model in either Rose Gold or Midnight Black. I opted for the 42mm Midnight Black; I'm not a huge fan of bigger watches, and was willing to deal with the smaller battery of the 42mm version.
Much like its design, the watch's features have largely been improvements to those on the Gear S3. The Galaxy Watch is waterproof up to 50 meters (compared to the S3 being only "dunk-proof,") it has more detailed workout tracking, and the battery life has been significantly improved.
However, the improved usage time did come at a cost: Samsung Pay is now NFC-only, meaning that you can only use the watch to make a purchase on contactless payment terminals. The magnetic secure transmission (MST) payment method on the Gear S3 that allowed the watch to work on any credit card reader is not present on the Galaxy Watch.
This is somewhat disheartening, but Samsung's watches have become known for their battery life, and the concession of MST ensures that the Galaxy Watch continues that trend. According to Samsung, the 46mm size can last up to four days on a single charge; the smaller 42mm, by comparison, lasts three.
Those figures don't take into account many of the watch's toted features, though: when settings such as always on mode, heart rate monitoring, or GPS are enabled, battery longevity decreases significantly. In my time with the 42mm watch, I've been able to get around two days on one charge with admittedly somewhat heavy usage, which is still pretty impressive, but it doesn't quite measure up to Samsung's claim.
The Tizen operating system is incredibly intuitive and a breeze to use, thanks in part to the watch's rotating bezel. Navigating the OS with the bezel and two side buttons in addition to the screen makes most actions surprisingly easy to execute. The watch runs extremely smoothly, with very few hiccups; I've had far less lag and stuttering using the Galaxy Watch than my previous watch, a 2nd gen Moto 360 running what was then Android Wear.
Tizen is part of the watch's strength, but also harbors some of the biggest drawbacks: the lack of app support and the less than stellar Bixby voice assistant markedly hold the Galaxy Watch back. One of the biggest third party Tizen apps is Spotify, which lets you stream music over WiFi as well as store music offline on the watch, but over time, the app has become somewhat bogged down with problems. Bixby is okay as a voice assistant — it's able to do things like set reminders, text contacts, and make calls — but it frequently struggles in scenarios where Google's Assistant or Siri do not.
Ultimately, though, many of these complaints don't erase the fact that this is a solid piece of tech, and one of the best smartwatches available right now. The great battery life, superb hardware, smooth OS, huge variety of watch faces, and solid fitness tracking features all make the Galaxy Watch a big contender in the market.
Right now, both the 42mm and 46mm models with Bluetooth can be had for under $300, and given that the Galaxy Watch does work with iPhones in addition to Android phones, it's certainly worth considering as an alternative to the Apple Watch.