Righting the Ship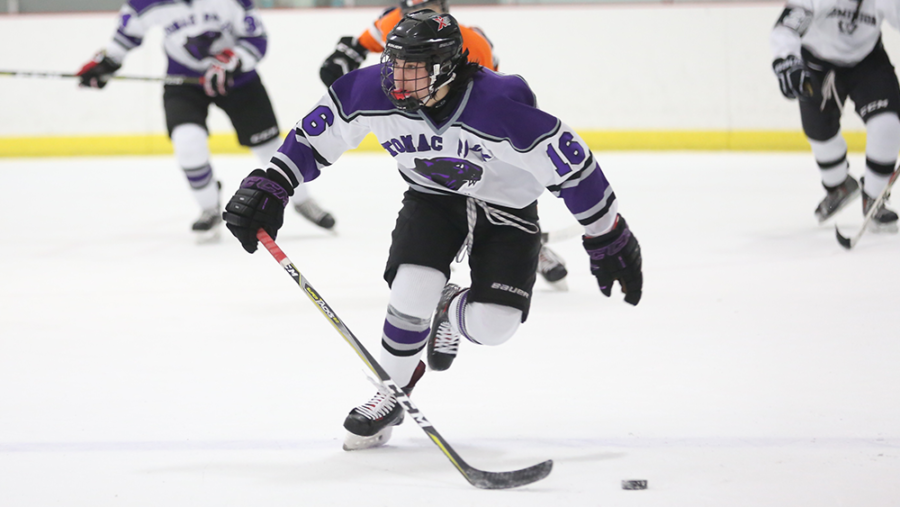 PFHS Ice Hockey's journey from winless to playoff contenders
It has been three long years since the last time the Potomac Falls Ice Hockey Team saw decent success, but on Friday Nov. 9, they ended the three-year win drought in one of the most unlikely ways possible.  In a goal scoring showcase, the Panthers struck down the Stone Bridge Bulldogs by a score of 11-6.
For the last three seasons the Potomac Falls Ice Hockey Team has been winless in varsity play. In the 2017-2018 season they registered a 3-3 tie, but the win column remained elusive. Their last meeting with Stone Bridge ended in a very different fashion as they fell to a 10-0 loss.
Following an undefeated spring season playing at the junior varsity level that ended in a League championship, and pre-season practices, the Panthers hit the ice thunderously against Stone Bridge. What appeared to be a tight game, quickly became a shootout that would yield 17 combined goals. Juniors Declan Martin, Joseph Cyrulik, and Frank Ellingwood all registered goals to add to the Potomac Falls lead.
"It felt really good to beat them, especially after last season, and it's extra special that our first win came against them" said Ellingwood.
The next week bought another tough game against the defending state finalists, Broad Run High School. Despite a strong goaltending performance from freshman TJ Wood, Potomac Falls faltered in a 6-4 loss. "The loss hurts a little but, we still feel good, since were 1-1, and we're in a good division" said Junior Kenneth Dobrai.
Since the Thanksgiving break the hockey team has been battling for playoff position. The team is now 5-4 and while the playoffs are now out of reach, this season is being viewed by the players as a renounced success. Along with the stunning win against Stone Bridge this season marks the first time ever that the team will finish with at least five wins. The hockey team will face Rock Ridge/ Heritage in their final game of the season on Friday Feb. 8 at the Ashburn Ice House.