Track Team Gets New Head Coach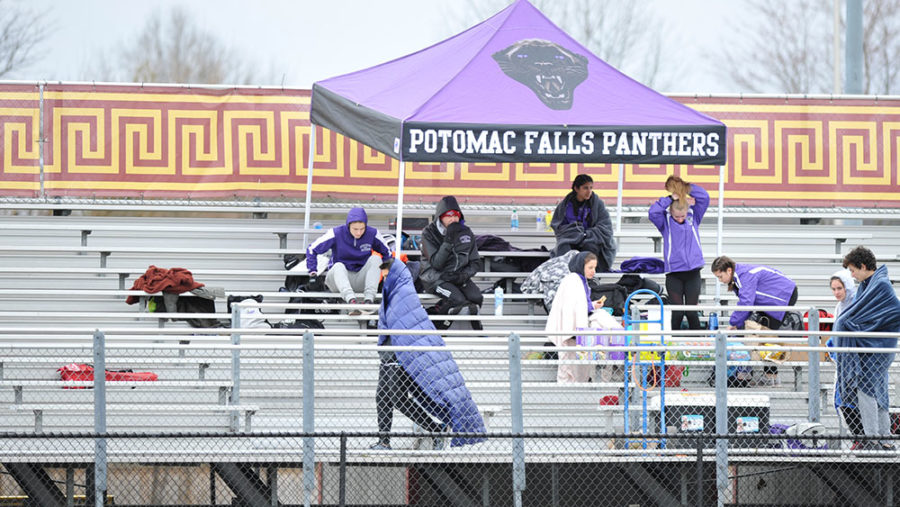 Coach Brandon Jackson stepped up to take over the head coach position for the 2019 spring track season
Coach Brandon Jackson has taken over the role of head track coach, which was previously held by Coach Kevin Richards. For the past eight years, Jackson has served as an assistant coach for jumpers and short distance sprinters. Jackson in also an alumnus of Potomac Falls, and a former track superstar. He held the school record in the 110 hurdles for eight years with a time of 14.85 seconds, which was broken last year by current senior Tyler Pride.
With the opening of head coach available this year, Jackson decided to seize this opportunity to use his track knowledge at a higher level. In his new position, Jackson is bringing a refreshing new outlook to Potomac Falls track, and he already has many aspirations for the season.
"Our goal is to be one of the most competitive track programs in the county by working hard and having a great attitude every day," said Jackson.
Jackson's approach to coaching involves combining hard work with fun to create a constructive environment for athletes. Athletes on the team have already responded well to Jackson's positive attitude and hardworking spirit, such as junior Ryan Fedei, who sees many benefits to Jackson's coaching style.
"He's very positive towards the whole team, and I think he's handling the transition between coaches very well," said Fedei.
Jackson is also a basketball coach at the school, and as the basketball season extends into track season, this has created a few bumps in an otherwise smooth transition.
"I am trying to balance the two sports. What has made this [transition] smooth for me is the ongoing support I get from Coach Hawes, my assistant track coaches, and Mrs. Pride who have helped truly kick start the track season. I don't know what I would do without them," said Jackson.
Alongside Coach Jackson, the track team has help from six assistant coaches this season: Coach Dolph Null, Coach Paul Gilmore, Coach Todd Augustine, Coach Douglas Greenwood, Coach Montre Tates, and Coach Misty Keller. The team is also assisted by Natalie Jackson, Coach Jackson's wife, as well as Gwen Pride, the team mom. With so many experienced coaches to learn from, Potomac Falls track athletes are well on their way to being set up for a great season.
"I am so excited to have the opportunity to run my own program and inspire athletes," said Jackson.