Spin It to Win It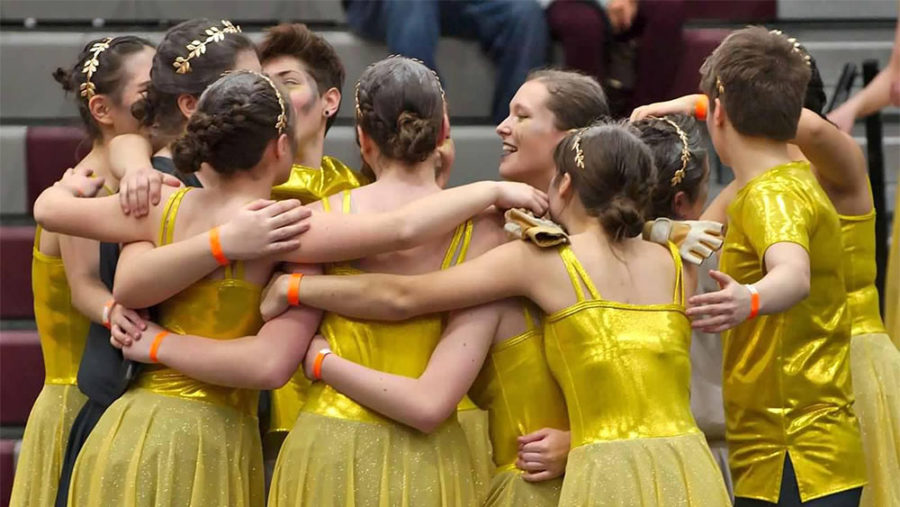 As winter guard's seasons wraps up, they placed first two weeks in a row
Every winter, the winter guard team rehearses in order to prepare for the various competitions they participate in. This year, the team is performing to the song "Turn to Stone" by Ingrid Michaelson, and their performances led them to place first, not once, but twice.
Guard teams get scored on a 100-point scale based on categories such as equipment and general effect of the performance. For the past couple of seasons, winter guard has been placing second and third in many of their competitions. Senior Jessica Michael has been doing guard since her sophomore year and is excited to see a change in this pattern.
"Placing first really helped bring the team closer and bring a lot of happiness to the team," said Michael.
The first competition was at Mount Vernon high school in Alexandria on Feb. 16. With a winning score of 66.85, it was clear that they dominated. The second-place score was 62.11, which belonged to Oakton High School's JV team.
"[The competition] was super incredible for everyone because we've never placed first before and we did it twice, so it feels really good and we are determined to keep that up now," said Michael.
Although that score might not sound very high, it is. In winter guard, it's nearly impossible for a team to score in the 80-90 range so getting a score as high as a 66 really shows how amazing our winter guard team is.
The second competition winter guard placed first in was the very next week on Feb. 23 at Forest Park High School in Woodbridge, Virginia. At first, they thought that they got second place because Patriot High School had a score of 68.44 and they had a score of 68.39, but Patriot lost .1 points because of a penalty. This penalty allowed the Potomac Falls to secure first place.
"We were all anxious because we knew that Patriot High School was going to do very well and when the scores were that close, we were all super nervous and full of adrenaline but pulling out the win meant a lot and it caused us to become closer as a team and determined to continue our winning streak," said Michael.
The guard team has had one competition since their Forest Park competition, where they placed fourth. Their next two competitions are on March 23 and March 30, and they will be performing at the spring pep rally on March 22. These will be Michael's last three performances.
"I'm looking forward to finishing my senior season strong," said Michael.