Most Anticipated Movies of 2019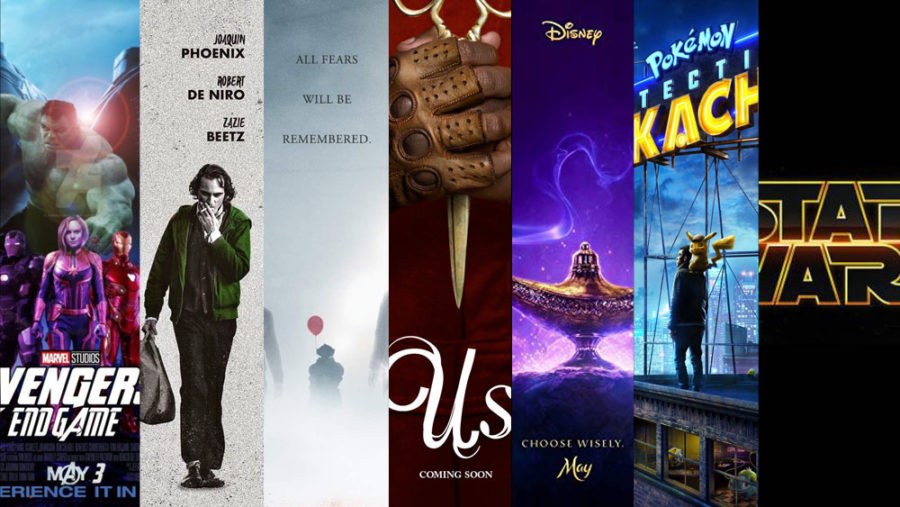 2018 was a great year for movies, and it seems like it will be pretty hard for Hollywood to follow up with another solid year of movies. That being said, 2019 has a very promising set of films slated to come out over the next nine months, so let's dive in
Us (March 22)
Jordan Peele made waves after his smash hit "Get Out" made millions and won awards. He is following up with another horror/thriller, "Us," which shows tremendous promise to live up to "Get Out." Plot details are still under wraps, as is typical of a thriller like this, but the movie will star Academy Award Winner Lupita Nyong'o and the chilling trailer released in January makes this look like something you shouldn't miss.
Avengers: Endgame (April 26)
The Marvel Cinematic Universe hits its climax in this direct sequel to last year's box office smash "Avengers: Infinity War."  We know almost nothing about the film, which is the way we'd like to keep it. This should prove to be a moving and entertaining end to a series in the making since 2009.
Pokémon Detective Pikachu (May 10)
It may be hard to believe but, Pokémon is the highest grossing media franchise ever. The video game series will get its first big screen experience in "Pokémon Detective Pikachu," a live action/animation hybrid film that boasts RYAN FREAKING REYNOLDS! as the voice of Pikachu.
Aladdin (May 24)
Disney continues its pattern of live action remakes of their classic animated films with "Aladdin." While the previous remakes have performed well, critically, I'm not sure how this will go. Guy Ritchie makes his family movie directing debut and Will Smith is taking over as the Genie for the late Robin Williams.
Rocketman (May 31)
Capitalizing on the ridiculous success of "Bohemian Rhapsody," Elton John is getting his own movie in "Rocketman." Covering his whole life story from childhood prodigy to his fruitful partnership with lyricist Bernie Taupin, this should rack in the money like "Bohemian Rhapsody" did. Taron Egerton is starring as Elton (we'll have to wait and see how that goes).
Toy Story 4 (June 21)
Pretty much everyone agreed that "Toy Story 3" ended the trilogy on a perfect note, so Pixar must have a good reason to risk poisoning the well with another sequel. A 99 percent average on rotten tomatoes can't stay that high forever. It then occurred to me that the reason is the money. All of the money.
Once Upon a Time in Hollywood (July 26)
For Quentin Tarantino's 10th film, he is recruiting an all-star cast to tell the story of an aspiring actor and his stunt double attempting to establish their careers in Tinseltown in 1969, just as the Manson murders are taking place. Leonardo DiCaprio, Brad Pitt, Margot Robbie, and Al Pacino make up that all-star cast.
It: Chapter Two (Sept. 6)
Stephens King's massively successful horror story gets a sequel this fall, following the 2017 remake that destroyed the box office. This follow up will take place 30 years after the events of the first movie and will follow the same characters. Jessica Chastain, James McAvoy, and Bill Hader join the cast.
Joker (Oct. 4)
A stand-alone supervillain movie is something that Hollywood has yet to tackle, but "Joker" is giving it a shot. Academy award nominee, Joaquin Phoenix, is set to star as the iconic clown prince of crime and Robert Di-Niro is co-starring.
Doctor Sleep (Nov. 8)
Another Stephen King horror adaptation will hit the big screen this fall in the form of "Doctor Sleep," King's sequel to "The Shining." The movie will follow a grown-up Danny Torrance, who uses his shining powers to help dying nursing home patients, but is interrupted in his good deeds by an evil cult of demons.
Frozen 2 (Nov. 22)
If it ain't broke…
Star Wars: Episode IX (Dec. 20)
Following the mixed response from "The Last Jedi" and "Solo," J.J. Abrams returns to the directing chair to finish off the new trilogy. The retrospective success of the new trilogy hinges on whether or not it can stick the landing.