National Language Honor Society Holds Induction Ceremony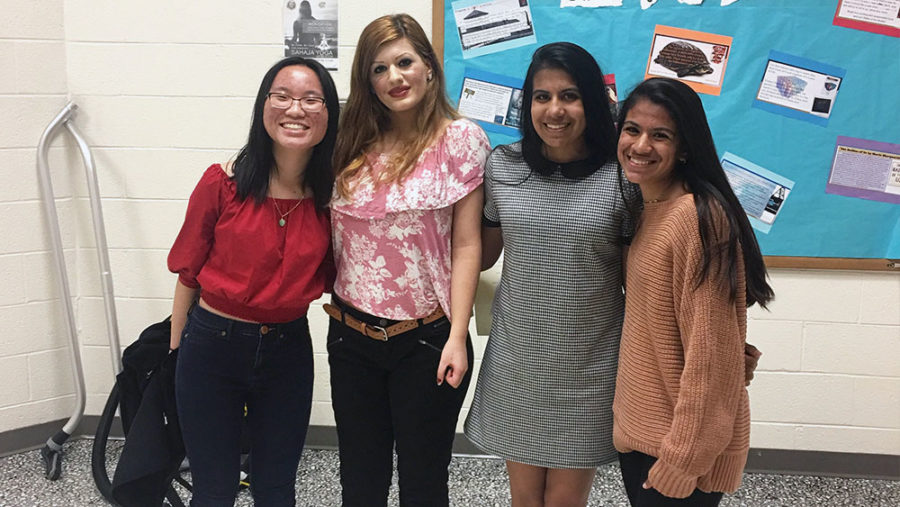 On March 28, 2019, the National Language Honor Society welcomed new members who have demonstrated excellence in French, German, Spanish, and Latin.
Like the National Honor Society, membership for the NLHS can only be obtained through invitation, making it highly competitive as only students containing GPAs of 4.00 or above are selected. Spanish teacher Sally Nathan organized this year's induction ceremony, where inductees are given artificial candles and must go on stage where they present their speech in their chosen language.
"I believe that anyone can learn a second language; after all, you learned your first one.  Whether someone excels is up to the person. There is no magic way to pour language into students' heads–a student has to make a conscious effort to learn. The other teachers and I are so proud of our students' accomplishments! It is gratifying to see what students can achieve. It is always a pleasure to bestow an honor on a student," said Nathan.
Sophomore Kate Olia attended the induction ceremony as she was among the few selected members accepted into the Spanish Honor Society. Olia's interest in Spanish originated when she visited Spain while on vacation the summers before her fourth grade and freshman years of school.
"It is so exciting to be a member of the National Spanish Honor Society because it shows that all the years of Spanish paid off. I contribute my success in Spanish to my Spanish teachers I have had here at PFHS, Senora. Schneider and Senora. Castillo," said Olia.
A member of the French Honor Society, sophomore Mattie Schwendeman  volunteered at the induction ceremony where she distributed awards to the inductees. In addition, Schwendeman presented a speech in French about the importance of languages.
"I think that the Language Honor Society is a valuable resource for students because we offer free tutoring.  Whether you have a quick question or need help on a paragraph, we can always help," said Schwendeman.
Secretary of the Spanish Honor Society, Allison Do, was inducted last year where she went on to become an officer in the club. NLHS helps Do express her passion for Spanish and learning other languages.
"It makes me really happy to have and welcome new members in La Sociedad Honoraria Hispanica! Being inducted last year was an honor for me. Learning languages is something I really enjoy and i was so happy to become a member of the language honor society," said Do.