Nate Savino to play in MLB Prospect Development Pipeline
Junior Nate Savino prepares for  Prospect Development Pipeline this summer.
Potomac Falls' very own junior Nate Savino has a reputation that precedes him. After committing last year to play D1 baseball at University of Virginia as only a sophomore, Savino's name became known not just countywide but countrywide.
Savino is the sixth-ranked pitcher in the country overall, and the first-ranked left handed pitcher. With the level of talent that Savino possesses, he has been presented with many great opportunities — his latest, the chance to participate in the first ever MLB Prospect Development Pipeline (PDP) this summer.
This is the first year of the PDP— a collaboration between Major League Baseball and USA Baseball — that invites the top 80 players in the country to Florida to play ball during June and July. Prior to the Pipeline League, Savino will spend five days in June in Arizona playing in the Perfect Game National Showcase.
"It's just exciting; it's a huge opportunity for me, and I'm just excited to do it," said Savino.
Playing in the PDP will be Savino's alternative to playing with his regular travel team, Diamond Elite.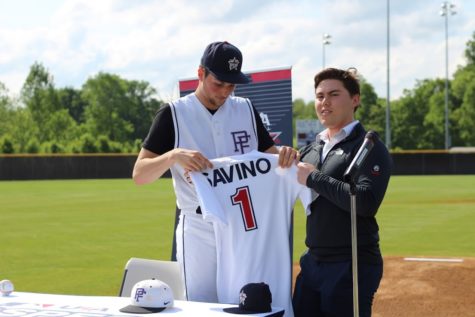 On May 9 at 3:45 pm, Savino received the jersey that he will be wearing this summer while playing alongside 79 talented baseball players from around the country.
Despite Savino's accomplishments, his teammates appreciate his humble approach to the game. On the other side of the plate is Savino's catcher, senior Andrew Gerhart, who is committed to continue his baseball career at Mary Washington this fall.
"Nate comes to practice ready to get better every single day and stays humble and committed to the process of getting better every single day," said Gerhart. "What I love about Nate is the way he goes about his business. No matter what accolades he receives and how much people congratulate him, Nate finds a way to stay humble and focused on becoming the best baseball player he can be."
Savino's fastball is consistently clocked at 90 miles per hour.
"[When Nate pitches] focusing on every single pitch is required. If you take one pitch off, that could afford a strike-out or a earned run. So having focus on every single pitch is the greatest challenge but the connection and bond we've created is definitely the most rewarding part of the opportunity to catch him," said Gerhart.
Although this is only Savino's third year of high school baseball, it is also his last. Unlike the average student-athlete, Savino plans on taking one semester of classes next year and then going to UVA early to compete in their spring season. With his time at Potomac Falls being cut short, his mindset for his last few games has remained constant.
"The plan is I do half a semester then leave in the spring. I just got to give it my all each game and savor it," said Savino.
Hang on for a minute...we're trying to find some more stories you might like.