Fall Movie Preview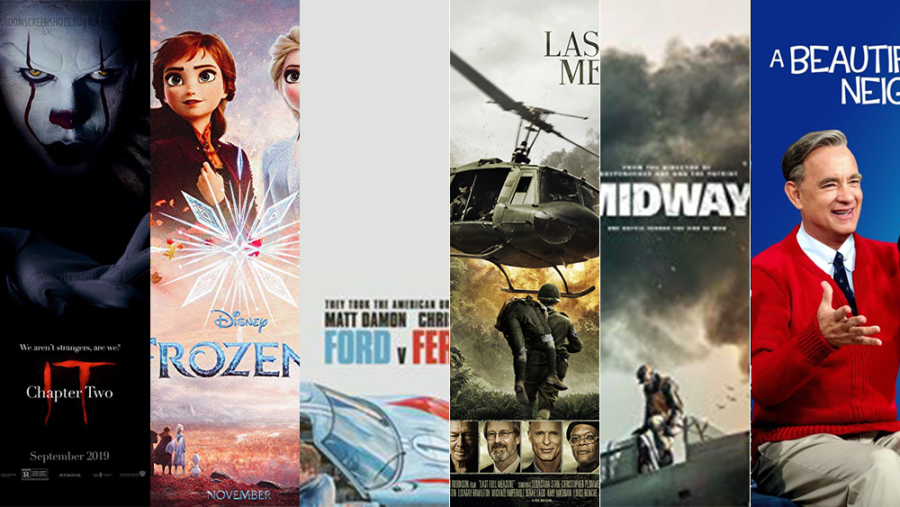 Despite a few blockbusters, 2019 has not been great for movies, but Hollywood has a few months left to turn it around.
In the wake of 2018's highly competitive Oscars race and summer blockbusters, Hollywood had a lot to live up to in 2019 and, to be honest, they've largely fallen short. With the exception of a couple of summer blockbusters and "Avengers: Endgame," this year hasn't been very good for movies. But, as we enter the best part of the year, it is worth looking at the pop culture phenomena and Oscars candidates that will dominate the theater. 
IT: Chapter Two, September 6
From the mind of Stephen King comes another horrifying nightmare at the hands of Pennywise the clown. 2017's "IT" reboot was a massive success: critically and at the box office. It was only a matter of time before a sequel. This movie builds off the 2017 adaptation and follows the same group of characters 30 years later. Bill Skarsgard returns as Pennywise and Jessica Chastain, James McAvoy, and Bill Hader fill out the rest of the all star cast. 
 Joker, October 4
The last of the highly anticipated blockbusters for 2019, "Joker" will be a massive box office smash. The original story for this iconic Batman villain will walk the fine line between action and psychological thriller. Robert De Niro will play a mysterious TV Host and Joaquin Phoenix will star as the clown prince of crime. It was also announced that "Joker" will be R Rated, so there will be no Adam West campiness and all Heath Ledger madness in this iteration. Early reviews have been off the charts for a comic book movie.  
 The Last Full Measure, October 25
The first movie that I think will land itself in Oscar talks, "The Last Full Measure" tells the true story of the actor who lobbied to have the Medal of Honor awarded to a Vietnam War soldier 34 years after he was killed in action. An emotional drama that boasts the late Peter Fonda, Bradley Whitford, Samuel L. Jackson, and Ed Harris is sure to draw attention from the academy. Todd Robinson, a relatively unknown director wrote and directed the project.
Harriet, November 1
It took long enough. Hollywood is finally making a biopic of the life of the legendary historical figure Harriet Tubman. There are a lot of questions revolving around this project. An unproven director Kasi Lemmons will helm the ambitious film that spans over a 30 year period of time. Most interesting is the choice to make Cynthia Erivo the leading lady. It will be a big step for a lot of the people working in this film to pull it off, but it's hard to go wrong with a story so unique.
Midway, November
One of the War films that looks to win big at the awards shows is Roland Emmerich's World War Two epic "Midway." The film will follow the leaders of the American Navy as they attempt to pull off one of the best strategic victories in history. Woody Harrelson, Aaron Eckhart, and Luke Evans take center stage in what should be an entertaining look into history.
The Report, November 15
What is certainly going to be the most controversial movie of the fall, "The Report" is an intense drama that questions ethics like no other. Adam Driver stars as a Senate staffer tasked with investigating the CIA's post 9/11 interrogation program including the allegations of torture. Jonn Hamm and Corey Stoll also star in a movie that I am somehow both looking forward to and reluctant to see. 
Ford V Ferrari, November 15
The true story of the engineer and driver who built and raced a revolutionary race car for Ford Motor Company to challenge Ferrari at the 24 Hours of Le Mans in 1966. A period piece/underdog story that carries the dynamic duo of Christian Bale and Matt Damon, is a serious award show contender. I'm really looking forward to this.
Frozen II, November 22
The inevitable sequel to Disney's 2013 animated hit, "Frozen II" has the same returning cast and will follow the beloved characters, investigating their family history and the origin of Elsa's power. Not much else is known about this project but if you have a little sister, I'd bet she will go see it.
A Beautiful Day in the Neighborhood, November 22
If it's one thing I know, Tom Hanks can do anything. He's been Army soldiers, journalists, detectives, and living toys. This Fall, alongside "The Americans" allum Matthew Rhys, Hanks takes on another iconic role. Tom Hanks plays Fred Rogers in the true story of the friendship between a skeptical magazine writer and America's most beloved neighbor. The Academy is drooling.
The Irishman, November 27
What has been described as Martin Scorsese's passion piece, The Irishmen is a dark period piece following a mob hitman recalling his possible involvement with the killing of Jimmy Hoffa. I'll sign up for anything that has Robert De Niro and Al Pacino in the starring roles, but I have concerns. Firstly, the movie uses CGI to make De Niro and Pacino appear younger. If that isn't done the right way, it will look really weird. Secondly, the reported runtime is 210 minutes which is ridiculously long. 
Star Wars: The Rise of Skywalker, December 20
Setting aside my personal grievances with the previous installment in this trilogy, I am excited for this movie. Not because I think it will be good, but because it will definitely be over. If "The Force Awakens" was an acceptable "A New Hope", then "The Last Jedi" was a trash heap of an "Empire Strikes Back." I can't imagine this will live up to "Return of the Jedi". I suppose if I wanted my childhood ruined I'd rather it be by Star Wars than by Marvel.   
Little Women, December 25
Christmas will bring another adaptation of the classic book "Little Women." The main cast will include Florence Pugh, Emma Watson, Saorise Ronan, Meryl Streep, and Laura Dern. That's pretty stacked. I'm not sure how I feel that the first person on the cast list of the IMDB page is Timothee Chalamet, who isn't little or a woman. Best Actress and Best Supporting Actress is just about locked up. 
1917, December 25
The other war film that excites me is "1917" which follows two young British soldiers as they struggle to deliver a message behind enemy lines that will stop their own regiment from walking into a trap. Benedict Cumberbatch, Mark Strong, and Colin Firth headline what should be an intense war epic. Shades of 2017's "Dunkirk" are apparent.