Read All About It (and In One Place)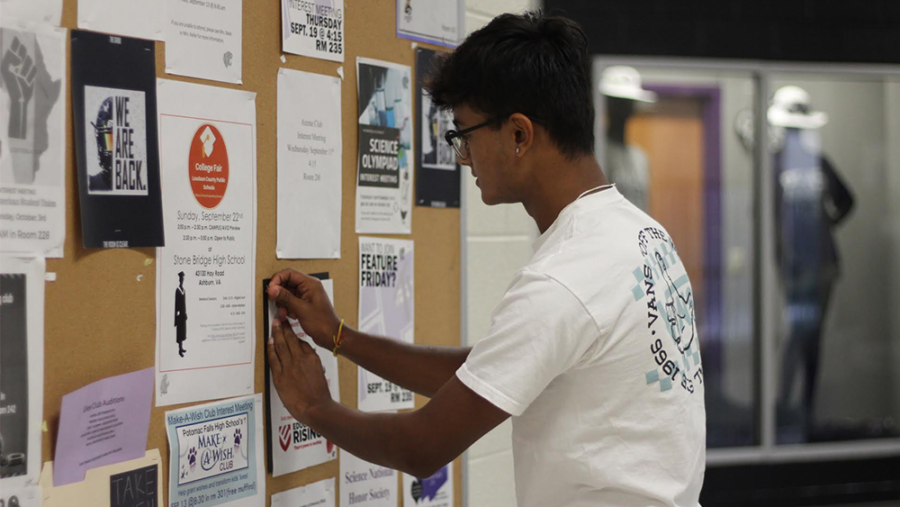 Students and teachers at Potomac Falls adapt to the new style of spreading the word for clubs and activities. 
Over the past four years, Potomac Falls has undergone a series of significant changes, especially during the recent summer break. If the switch from paper-based learning to Chromebooks wasn't enough, students now have Potomac Falls' new look and centralized information center to get used to. 
In previous years, there have been flyers scattered around the hallways detailing what's happening at the school – inside and out. Since the school's recent, and ongoing, makeover, those flyers have been relocated to a centralized bulletin board just outside the Diamond. In addition to the central announcements bulletin board, each grade level has a class bulletin board on which important information that pertains to their class will be posted.
"We've been trying to clean up over the last 20 years. We just want to streamline everything and make it easy for people to know where [to] find the information," said principal Dr. Brandon Wolfe. "Some people, like myself, like to have a paper copy of things. It's just another visual reminder. We want to communicate the message as many ways as possible."
SCA sponsor Jonathan Breslow agrees with the decision for the flyer bulletin board as opposed to having flyers scattered around the building. "Having everything in one place should make the school look better and ensure that the students know where they can go to look for information," said Breslow.
Breslow also believes in the utilization of Chromebooks to spread information. "I feel like we should have a way to virtually distribute flyers using some form of technology. I know that we have set up Google Classrooms for each grade level," said Breslow. 
Club officers around the school are less excited about the change. As Vice President of So Positive Initiative (SPI), senior Clara Salazar is worried about the amount of attention the new board will receive. "I'm concerned as to how many students will actually look at the board or have the time to. The board may get too crowded or overwhelming to look at," said Salazar.
She does, however, see the bulletin board as a form of being more environmentally conscious. "From an environmental point of view, as well, I think that [flyers] aren't really necessary since we can do the same type of thing online." 
With all of the new changes happening at Potomac Falls, one thing is constant: our school's vivacious energy will always bring us new and exciting opportunities.