Claudia Conway: The Face of Gen Z Politics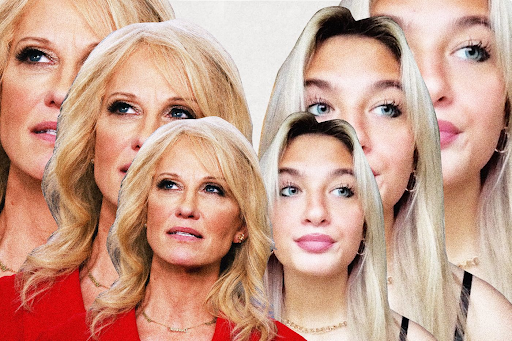 How the daughter of a high-profile political advisor is setting herself apart from her name. 
Ask any teenager, and chances are they know who Claudia Conway is. Even better, they are probably one of her over 1.4 million followers on Tik Tok. The 15 year old daughter of former Trump advisor, Kellyanne Conway, gained an immense following over the past few months. How has she done this? By setting herself apart from her family name completely, and questioning their political beliefs. The Conway family drama is riveting, and Claudia gained significant amounts of supporters from Generation Z because of it. Claudia's immersed life in politics  caught the attention of teenagers around the country. The spectacle that comes along with her political involvement, is keeping that attention.
Claudia Conway's Tik Tok page met its first wave of fame in June. Conway took to social media to voice her support for the Black Lives Matter protests, which was a significant contrast from her mother's outspoken political values. She also voiced her own view, which included disapproval of the President, whom her mother worked for at the time. It is important to add that on Oct. 2, Kellyanne Conway resigned from her position as an advisor for the Trump administration. Kellyanne Conway said she would be dropping her position "to focus on her children, giving them "less drama, more mama," according to BBC World News. 
The drama, however, does not stop there. Claudia made claims against her parents that included allegations of child abuse. Conway strategically voiced these claims after gaining a large amount of support online. After these statements came out, Conway's social media pages started getting even more national attention from news outlets.

The U.S Sun recalls one of the quotes used in Claudia's live stream on Tik Tok where she said "My mom got me arrested. She is very physically abusive. Very, very verbally abusive. " Conway also confirmed online that she attempted to get emancipated from her parents on Aug. 23 because of "years of childhood trauma and abuse," according to filmdaily.co.
Claudia's Tik Tok followers got a peek inside the Conway house after Kellyanne's COVID-19 diagnosis. In a series of videos, it appeared that Kellyanne forced her daughter to post videos to her main social media page, explaining earlier statements made regarding her mother and the President's health conditions.

The spectacle began when Claudia "posted a video alleging her mother was 'coughing all over the house' after attending the event, and said that Claudia herself was struggling to breathe,"according to Vox.com. Conway was cited in many major news sources after news of her mother's COVID-19 diagnosis was official, due to the fact that she broke the news before any media outlet. 
The Conway-COVID story was the last major peek into how the family is doing. Who knows what Claudia's next steps will be. The election on Nov. 3 will most likely spark some comments from the Conway family, considering Claudia openly voices her approval for Joe Biden.

Although she is not old enough to vote, she still expresses support for Biden to her impressionable fan base. She also encourages those fans who are eligible to vote to do so. She may have a lot of controversy surrounding her, but Claudia continues to spread a good message around the civic responsibility of using your voice in important elections.