Review Of Netflix's New True Crime Documentary: American Murderer: The Family Next Door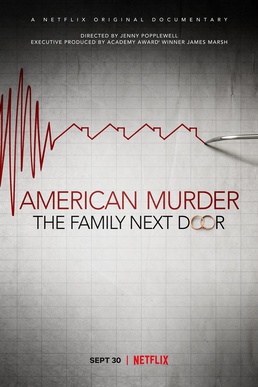 Rage, deceit, and vicious killings… This film, based on the story of the Watts family, will leave you with many unanswered questions.
Everyone from far and wide has heard the saying "till death do us part", right? For Chris Watts, he not only took this into a literal context, but he also took those matters into his own hands.
On Aug 13 2018, Christopher Lee Watts, husband to Shanann Watts and father to Bella and Celeste Watts, murdered his family in cold blood. The story line of this crime, and what got Chris Watts to perform these heinous murders, had the potential to be a killer film, literally. However, the documentary did not live up to the standards that were set before it. 
While it was not executed in the most intriguing way possible, the film did have plenty of pros to it. It's filming styles, which bounced from real police body cam footage, home videos from Shanann's Facebook page, and police station footage highlighting Chris' confession from start to finish, truly encapsulated how gut-wrenching the crime really was. The emotional aspects to it were all there, and it definitely gave viewers the feeling as if they too were a part of the Watts family, and were slowly being more and more deceived as days passed.
Another aspect of the documentary's filming style that set it apart from some of Netflix's other original films was its use of social media and text messages throughout the film. This helped people better understand the relationship that Shanann and Chris shared behind closed doors, and it really lived up to the claim that not everything goes as far as the eye can see. It was a perfect touch to the film that made it so  personal, and made it hurt so much more when the story finally unravelled the truth. 
As much as the documentary provoked some to instantaneously bring out the tissues, the overall captivation was simply not there. The first 30 or so minutes of the film were very thought-provoking and eerie, and the last 30 minutes were so well executed it would make anyone with a heart feel immensely sorry for them. However, the remaining hour of the film was slow burning and could have done a better job of capturing the essence of the crime itself.
Whether or not viewers would like to admit it, they are driven to watch true crime documentaries because they enjoy having their skin crawl and their stomachs turn as they watch the crime be solved right before their eyes. It sparks an interest that not a lot of genres can properly execute, and this film really could have dove deeper into the actual crime itself instead of trying to trigger the waterworks.
As suggestions go, the documentary should have spent more time picking apart Chris' mindset when committing the murders, and detailed more information on his promiscuous affair. The biggest question that viewers raved about all over the internet was why he didn't just get a divorce instead of murdering the people who loved him the most in the world.
With the information Netflix was provided with, including the real life footage and police recordings, they definitely could provide explanations and answers to all of those questions and more, but unfortunately the film ended before it even got close to that.
Compared to other true crime documentaries on Netflix, such as The Trials of Gabriel Fernandez and Don't F**k With Cats –who excelled in intrigue, a commendable plot, and such unique styles of filming- this one fell quite short on the list.
Despite skyrocketing on the Top 10 charts for almost a whole week after its release, American Murder: The Family Next Door had a flawless foundation to be a tear-jerker and a stomach-twisting documentary all rolled into one, yet it simply did not live up to all its hype.