Coronavirus Protocol Breach of Justin Turner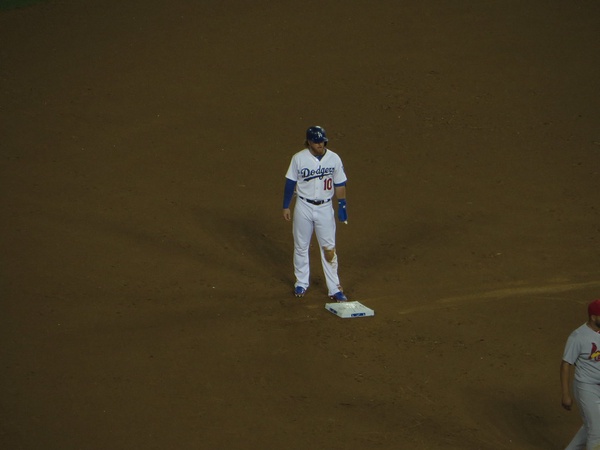 Dodgers third baseman joins team in championship celebration after testing positive for Covid-19.
For the first time since 1988, the Los Angeles Dodgers are the last team standing. After facing the Tampa Bay Rays six times, the Dodgers claimed their title as World Series champions on Tuesday, Oct 27. The team took turns passing around the trophy while their third baseman, Justin Turner, sat alone in the clubhouse after testing positive for Covid-19. Or so we thought.
After the trophy presentation, the team got together to take a large group photo, but who is that in the front row? Well, that would be Justin Turner. The same Justin Turner that was yanked out of the game in the eighth inning after being notified he tested positive for the virus.
Turner was seen on the field with his teammates wearing a mask, but in the team photo he was not. Turner took a seat next to manager Dave Roberts, a lymphoma survivor, putting him at risk, and even hugged some teammates. "All I know is I had to take him out of the game in the seventh inning, which was crazy," Roberts told Fox announcer, Kevin Burkhardt, in an interview. "And he tested positive. … He was in the team picture. I didn't touch him, just because I didn't know. It was really crazy and I was really disappointed that, obviously with that, he couldn't be out here to celebrate with us."
After the game and the post-game celebrations, Turner tweeted that he was feeling fine, and that he was happy for both his teammates and the city of Los Angeles. 
"Thanks to everyone reaching out! I feel great, no symptoms at all. Just experienced every emotion you can possibly imagine. Can't believe I couldn't be out there to celebrate with my guys! So proud of this team & unbelievably happy for the City of LA," wrote Turner.
When players and their families finally returned to their hotels, they immediately underwent rapid PCR tests Tuesday, after the championship, and the following Wednesday. It was unsure at the time if they would be cleared to fly back to Los Angeles. 
The president of baseball operations, Andrew Friedman, spoke out about the team's response: 
"The fact that we were all in a bubble together means that from a contact-tracing standpoint, we're all in that web," Friedman said. "Now it's important that we all test negative however many times or whatever the protocols are to make sure that we don't go out and potentially spread it to other people." 
When word got out that Justin Turner was interacting with the team, many wondered what consequences he would face. MLB published a formal statement in response to Turner returning to Global Life Field's diamond to celebrate.
"Following the Dodgers' victory, it is clear that Turner chose to disregard the agreed-upon joint protocols and the instructions he was given regarding the safety and protection of others," the statement said. "While a desire to celebrate is understandable, Turner's decision to leave isolation and enter the field was wrong, and put everyone he came in contact with at risk. When MLB security raised the matter of being on the field with Turner, he emphatically refused to comply."
The Commissioner's Office says it is "beginning a full investigation" into the circumstances surrounding Turner and his actions.
Turner also received a bit of support from his teammates Mookie Betts and World Series MVP Cory Seager. "That man, more than anybody, deserves to take a picture with that trophy, celebrate with us, have his family around and enjoy this moment. That got taken away from him, and that's just not right. That doesn't sit well with me."