Back to School, Take Two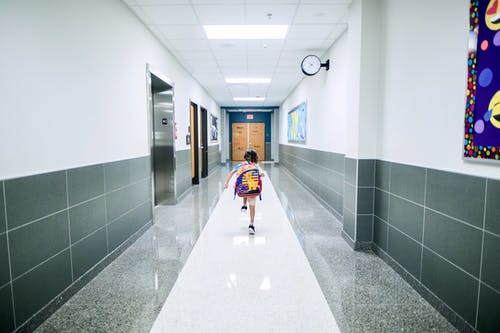 Third time's the charm for the Loudoun County School Board as they set another date for the implementation of a hybrid learning model
At the school board meeting about a month ago, Interim Superintendent Ziegler outlined the two standards from the Center for Disease Control and Prevention about in-person learning protocols, which are the number of cases per 100,000 people and the percent positivity rate. If cases exceed 200 per 100,000 and a 10 percent positivity rate, schools must stay in distance learning. Loudoun County was well above this threshold at the time, so the initial Jan 21 date of hybrid implementation was postponed. 
Now, with a eight-one majority, the School Board has voted on a Feb 16 start date for hybrid implementation and for all grade levels to be back in the classrooms by Mar 3. This would only include those who chose hybrid for the spring semester on a survey sent out back in the fall. 
Keeping up with the school board's decisions can be like a game of ping pong as they decide, retract, set new guidelines, and then break them. Representatives cited that the CDC's guidelines on in-person learning have changed, and the previously mentioned metrics "…are now considered secondary to the likelihood of Coronavirus spread at the classroom and school level" [LoudounTimes]. What this means is that the school board is more concerned with the likelihood of school-aged children contracting and spreading the virus than with the rate of community spread.
Their beliefs are that the proper mitigations and precautions have been put in place, so schools are ready to once again house students as soon as possible. "There are really only two steps: step one, put the appropriate mitigation strategies in place; step two, open the schools for instruction," said Representative Ian Serotkin of the Blue Ridge district. The School Board emphasized that protocols must be kept in place as schools populate once again, urging administrators, students, and parents to report any misconduct immediately. 
The Loudoun County Health Director, Dr. David Goodfriend, supports the School Board's decision and feels comfortable sending LCPS students, including his own, back to schools. However, vaccine rollout for administrators was a concern, with several School Board members citing scheduling conflicts and the fact that not all teachers may be vaccinated by the time students return to classrooms. Dr. Goodfriend said that "We know these vaccines are tremendously effective at preventing people from getting hospitalized, at preventing people from getting sick. We don't know how good at all they are at preventing people from getting infected or spreading infection… I would not put off having folks come back in to wait until folks are vaccinated, because as I said, it may have an impact on disease transmission."
These dates are most likely set in stone, meaning that kids will be back in classrooms after almost a year, for schools shut down on Mar 12 of last year. 
Previous attempts at hybrid learning have failed, and experts advise that the new model is charting relatively unknown territory. One can hope for a safe, successful return to classrooms, but that is only if proper precautions are upheld: social distancing at least six feet, frequent hand washing, and proper mask wearing. And even then, outbreaks can occur. Even if school environments are at lower risk for transmission, children could unknowingly bring the virus to the buildings from their communities. 
New strains of the Coronavirus do not help to ease worries about students entering schools. Virginia saw its first five cases of a new strain originating from the UK last week, with the CDC saying that the strain is "associated with increased person-person transmission of COVID-19" [WSLS]. Thus, hope should not rest on the coveted vaccines, especially since little is known about whether or not they are helpful in preventing the spread of infections. Not to mention the fact that vaccinations for children under 16 have not been approved, and might not be until the second half of the year.
It is easy to focus on the risks, and while they are important, it is about making the best out of the current situation as we enter nearly a year of being in lockdown. Acknowledging people's terrible losses, the families that have struggled with distance learning, and the teachers that have had to continuously adapt to new learning environments is important, no matter your opinion on the school board's decision. Motivation can be hard to come by during these times, but whether or not you will be sitting in a classroom again this time next month, remember that everyone, including your teachers, are just trying their best.