Ways to Celebrate Pride 2021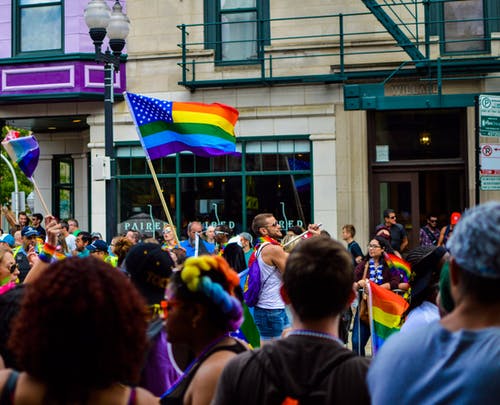 June is LGBTQ pride month, meaning it is a time to celebrate love, acceptance, and the history that brought us the freedoms we enjoy now. Here are some of the best and safest ways to celebrate.
Go to In-Person Events
Many cities across the U.S are combining virtual events with smaller, in-person ones as more and more people are getting vaccinated. For example, NYC Pride, which is the biggest Pride celebration in the country, will hold virtual events like movie screenings and activist rallies. On June 27, they will host multiple events, like an in-person PrideFest with music, local vendors, and safety protocols. 
In D.C, the usual Capital Pride parade will be modified to the Colorful Pridemobile Parade on June 12, which will feature a caravan driving around to decorated neighborhoods and historic landmarks. The theme is #StillWe: "In a year like no other, still, we came together to educate, advocate for change, uplift marginalized voices, and support our neighbors," said Capital Pride [NBC Washington].
Equality Loudoun is organizing a Pride Picnic and Festival on June 13 in Leesburg, and Reston will host a festival on June 19. Remember to follow guidelines and trends of Covid cases in the area. 
Support POC and/or Small Businesses
Thanks to TikTok and other social media platforms, small businesses are able to reach a larger audience, and are being purchased from more and more. Because is an apparel store owned by Hawwaa Ibrahim, a 21-year-old nonbinary Black Muslim, who said their vision is focused on "color, happiness, and excitement" [Them]. Non Gender Specific is a makeup brand with non gender-specific products, designed after its owner noticed the difference in the way beauty products are marketed towards men and women.
Watch LGBTQ Movies and TV Shows
We all know and love Love, Simon, RuPaul's Drag Race, and Euphoria, but there are plenty of other LGBTQ movies and shows that are worth a watch. Just some include The Watermelon Woman, The Miseducation of Cameron Post, and The Half Of It. For TV shows, Pose, Atypical, and BoJack Horseman all feature great LGTBQ representation and stories. 
Donate to/Check Out LGBTQ Funds and Resources
Casa Ruby is an organization run by transgender women of color that provides aid to LGBTQ individuals in the D.C area; donate here. Charity Navigator has a rating for costs, accountability, and transparency of various LGBTQ charities to ensure donations are going to the right places. The Human Rights Campaign has many resources and information about LGBTQ policies, health, current events, and more. 
Of course, this is by no means an exhaustive list as there are countless organizations and charities that are in need of donations during these times. A great way to find more is to search online for a specific cause, such as mental health resources for the LGBTQ community or conversion funds for transgender individuals. 
Be Supportive of Your LGBTQ Friends
Finally, remember to support and uplift LGBTQ relatives and friends. Listen to their struggles and stories, spread awareness about LGBTQ rights and issues; that is what being a good ally is all about.