A Peek Behind the Curtain: Ravel Dance Company's The Nutcracker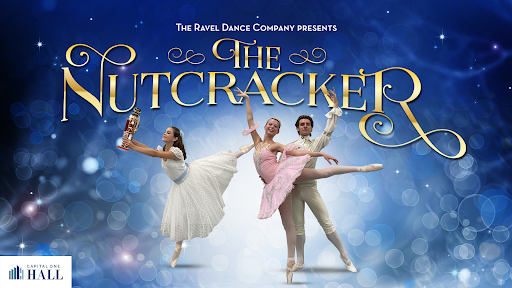 Lily Simanski Shares the Inside Scoop On Her Upcoming Dance Performance
Winter is on the way, and for the dancers of Potomac Falls High School, that means performances as well. Sophomore Lily Simanski will be participating in a presentation of The Nutcracker. 
"I will be dancing in the corps of Waltz of the Flowers and Tin Soldiers with my ballet class," said Simanski, sharing her roles for this upcoming performance. "I also have a Demi-soloist role in the Russian Trepak dance. [I'm nervous about] my first demi-soloist role, but I'm [also] really excited."
During a demi-soloist dance, the performer will be one of very few, usually two, on stage. 
Simanski's performance will be no small deal. It will be held on Sunday, Dec 5 in Capital One Hall, located in Tysons. Opened just this year, the venue seats 1,600 people and hosts many professional productions. 
Simanski dances at Revel Dance Studio in Reston to prepare for the performance. "An average rehearsal consists of warmups, technique combinations, and choreography rehearsal for any upcoming performances," said Simanski.
Ballet rehearsals last anywhere from 90 minutes to two hours. Simanski and dancers like her have these practices frequently, sometimes stretching to five days or more out of the week.
The hard work, according to Simanski, is well worth it. "Dance is definitely a difficult sport, but the excitement of a performance, from casting to the final curtain, makes every difficulty worth it," said Simanski. 
PFHS is home to multiple Ravel Dance students. If you wish to attend the performance and show support, tickets are available now at capitalonehall.com/events.