Potomac Falls Emphasizes Time Management Skills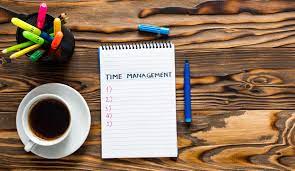 Potomac Falls' Advisory Committee teaches time management to help students with schoolwork.
    With students starting to feel the burnout of schoolwork almost halfway through the school year, the Potomac Falls Advisory Committee are helping students manage their time conveniently. The Advisory committee has begun sharing lessons on time management skills, and setting up links on the school website to help students research ways to deal with schoolwork, sports, jobs, family, and other factors in their life. 
    "It was actually an idea from the Advisory Committee… I know [Jeannie] Jens and [Molly] Rippa really did a lot to actually make the time management piece," said Michaela Ottenberg, member of the Social Sciences department, and member of the Advisory Committee at Potomac Falls. "I think Miss Jens really pushed for it in her role as AP coordinator to try to help students figure out 'How many APs should I enroll  in, should I enroll in them at all, if I play a sport, or I work, or I have these other commitments,' [and] to try to manage it."
    "That's actually where it started," said AP coordinator Jeannie Jens, who is also a member of the English department at Potomac Falls. "When I was teaching AP, and I became AP coordinator, I saw that a lot of our students were just struggling to manage their time, particularly the students who had a lot of advanced classes, like AP. So, we started thinking about how [we can help students] plan ahead for when they select their classes." 
    This year at Potomac Falls, the Advisory Committee has placed a stronger emphasis on time management than previous years, setting up a time management lesson in Advisory earlier in the year compared to previous school years to help out older students who haven't been in the building before due to the pandemic.
"We always used to do it right before scheduling, so sometime in January or February, but yes, this year we tried to implement it a little bit earlier, with the first lesson being sometime in the past couple of weeks as kind of an introduction, especially coming out of virtual learning," said Ottenberg. "A lot of students in this building maybe [have] not actually ever been in this building until this year. We wanted to put more of an emphasis on how to plan for high school… especially since we're adopting more and more courses that are sequenced… a lot of our English classes, our history classes, there are prerequisites for them, same with math as it always has been, and so we want to make sure that students are planning ahead, so that come their senior year, they won't say 'I want to take Dual Enrollment [Literature],' but they can't because they haven't done the coursework before."
 Ottenberg notes a mixture of reasons behind the time management focus.  "A; wanting to support student's success, B; help support student planning, so they can take the classes they want, C; post-pandemic, trying to figure out a way to give students as [much] support as possible to help them," she said.
    The lessons taught in advisory are planned by both the county and the Advisory Committee at Potomac Falls, to get feedback from teachers on how students are responding.
"We do get some of our advisory lessons from the county, but by and large, we plan everything here in house," said Ottenberg. "We have an advisory committee that has just about every department represented with at least one teacher, and then we kind of think about, 'What are our students saying in class… what's their feedback?'"
    On the Potomac Falls website, there are 19 links to articles on managing your school work, social life, extracurricular activities, family life, and homework. There is also a Google-form link leading to a time management quiz, with nine questions to gauge how effective you are at managing your time correctly, as well as a Google Doc for everybody to track their goals on managing different parts of their life.