Concert Concerns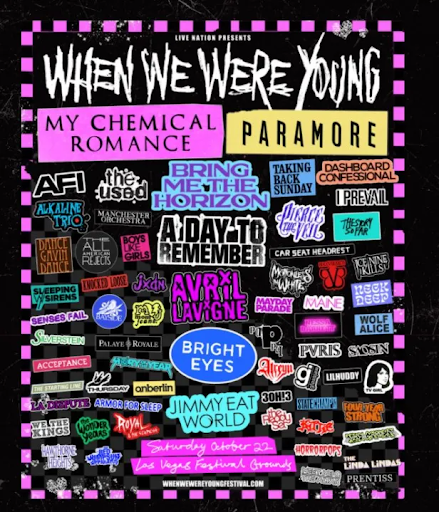 Astroworld organizers prepare another sketchy music festival.
    Live Nation Entertainment, the organizers of the disastrous Astroworld concert that occurred late last year, are organizing yet another controversial music festival. Scheduled for late October, the event will take place in Las Vegas and feature popular artists such as My Chemical Romance, Paramore, Avril Lavigne, Car Seat Headrest, and almost 60 others.
    Titled 'When We Were Young', the event is being marketed as an emo music paradise. However, upon its initial announcement, there were red flags instantly raised. The festival was planned to be just one day, with rumors saying there would be three performing stages. The issue? 60 bands would not have time to perform any significant amount of music in one day, even divided between three stages. 
    It takes time to switch up the gear each band requires, and this cuts further into the playing time for each performer. Assuming organizers wanted to give the headlining bands a larger amount of performance time, some groups would have as little as 15 minutes to play their set. The average set size includes 10-20 songs, whereas 15 minutes is hardly enough time to play more than three.
    The planners addressed this problem by adding two more dates to the event, but the existence of such a glaring issue in the first place points towards poor planning throughout. With this in mind, tickets for the event range from $250-500. While this is quite expensive for a music festival, this festival in particular features a large number of very well-known bands. Regardless, When We Were Young was still being considered somewhat of a scam before the length was extended, as attendees would only physically be able to see a third of those performers. 
    With the extended dates, the event could be considered worth its high price and should be able to work out smoothly. However, it is unclear why the event was originally attempted to be crammed into one day. Rumors are circulating that Live Nation is trying to execute a hasty makeup for Astroworld. In spite of this, When We Were Young is sold out for all three dates.