More Than Cookies: Celebrating 110 Years of Girl Scouts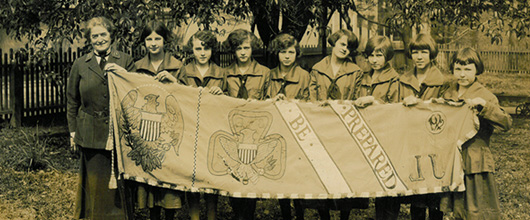 The Girl Scouts of the USA celebrated their 110th birthday on March 12. Take a trip back in time and learn about the history of Girl Scouts, including a discussion with New York journalist and Girl Scout expert, Rylee Kirk.
The 2022 Girl Scout cookie season has come to an end, and while millions of Americans are saddened that cookies will not be available for purchase until next December, the Girl Scouts of the AmericaUSA do far more than sell samoas and thin mints. Last week marked the 110th anniversary of the first Girl Scout meeting which took place March 12,  1912 in the city of Savannah, Georgia and consisted of eighteen girls and the organization's founder, Juliette Gordon Low. 
Juliette "Daisy" Gordon Low was born October 31, 1860. She grew up during the Civil War and loved her hometown of Savannah, Georgia fiercely. As a child she did a lot of community service, trying to help those less fortunate than her. In 1912, Low met with  Sir Robert Baden-Powell, the founder of the Boy Scouts, when traveling to Europe. Powell expressed to Low that the Boy Scouts had been experiencing issues with young girls disguising themselves as boys in order to join the Scouts. This inspired her to join the Girl Guides movement of the UK and establish the Girl Scouts in the US later that same year.  Girl Scout alumna Rylee Kirk who worked as a spokesperson for the Girl Scout council and was the youngest member of the council Board of Directors before pursuing a career in journalism, said,  "Daisy went to England and started a Girl Guides group there…She took the Girl Guide handbook back to Savannah and started the first troop there. She wanted girls to have the skills to provide for themselves."
The early days of scouting began at the Girl Scout First Headquarters. 18 girls made up the first two troops, and Margaret Gordon, Low's niece, was the first girl to be enrolled. Kirk, a former volunteer and employee for the First Headquarters (now a museum,) said, "The girls learned a lot of skills including morse code, churning butter, basic nursing, and how to save lives." 
In the media, Girl Scouts typically symbolize sweetness, innocence and purity; however, history shows Girl Scouts to have been controversial from the start. Despite the stigma and discrimiatory legislation, Low was determined for Scouting to span class, ethnicity, culture and race—the Girl Scout movement would belong to all girls. Low's Scouts strived for multicultural, racial and religious diversity, and exceedingly outpaced their brothers in scouting. While Girl Scouts weren't always accepted due to their progressive values, over time the scouts became a force of nature. "They babysat so women could vote for the first time. They helped train troops for World War One. During World War Two the Boy Scouts were given the job of delivering secret messages while the girls swept and got coffee. When the boys blabbed they were given the girls jobs and the girls delivered the messages," said Kirk, "I think that some people find Girl Scouts controversial and radical but they're progressive. When it was expected for girls to grow up, get married, and depend on a man the rest of their lives Daisy taught them the skills to be self sufficient. I think that people constantly belittle or demonize Girl Scouts for reasons they don't understand.  I think that the way Scouting brings girls together is often overlooked."
The country has consistently failed to recognize and appreciate the powerful contributions Girl Scouts have made throughout history. During the 1930s, when the US was consumed by the Great Depression, Scouts participated in relief efforts by collecting clothing and food for those in need. During the second World War, many Scouts learned to pilot planes and studied aviation in the Wing Scouts program . Girl Scout troops also operated bicycle courier services, ran Farm Aide projects, collected fat and scrap metal, and grew Victory Gardens, as well as sponsored Defense Institutes that taught women survival skills and techniques for comforting children during air raids. In the age of the swingin' sixties, Girl Scouts lent their voices to the Civil Rights Movement and launched several major initiatives regarding racial equality and diversity, including "Speak Out" conferences held across the country and the "ACTION 70" project designed to help overcome prejudice and build better relationships between people. "Martin Luther King Jr. called Girl Scouts "a force for desegregation." Troops of nonwhite girls were founded within the first five years of Scouting. Another thing often forgotten is that Girl Scouts pushed STEM from the start. In the 50s and 60s they had computer science and math badges before STEM was even on the radar for women. They even partnered with NASA," said Kirk.
So what about those cookies? The first Girl Scout cookies were introduced in 1917 by an Oklahoma troop when they sold them in their high school cafeteria as a service project. In the 1920s cookies went nationwide and now an average of 200 million boxes are sold every year. While purchasing one or two..or fifty boxes may make for a yummy treat, it actually supports young girls to develop skills they need to become successful adults who will contribute to their communities and strengthen the U.S. workforce by funding their troops. "We have many values. Courage, confidence, character. Help people at all times. Our values are found in our promise and law. One of the ones I try to embody before I leave my apartment every day is "Be Prepared," said Kirk
The mission of Girl Scouting is to build girls of courage, confidence and character who make the world a better place. "Studies show that when girls are placed in a group/organization with only other girls it boosts their confidence, gives them more support, and they take more risks they usually wouldn't," said Kirk. While in college, pursuing her degree in journalism, Kirk wrote for both her college and local papers, eventually becoming the Lead News Reporter and a Manager of her college paper. Kirk recently graduated with her Master's Degree from the Walter Cronkite School of Journalism at Arizona State and is now a professional journalist in New York. "Without Girl Scouts I wouldn't be who I am today. I was exposed to so many different things and got to find what I enjoyed and didn't enjoy. My troop was a great sisterhood. High school was one of the most difficult periods of my life for many reasons. Without the sisterhood and comradery of my Girl Scout sisters I wouldn't have made it," said Kirk, "My mother put me in Girl Scouts because when I was 5 years old doctors thought I was deaf. I never spoke. I was an extremely bashful girl. As months went by I started raising my hand and speaking more…Through Girl Scouting I found my voice. Now I use my voice to question others. For 13 years I asked strangers if they wanted to buy cookies. Now I ask strangers about their loved ones, about corruption, and I hold people accountable. Through my Gold Award I built a sustainable literacy program for underprivileged Pre-K students in my county. I created a library for them and donated one book a month to each kid. I received scholarships for my Gold Award and my time in Girl Scouts. Not to mention, I can start a fire, pitch a tent, perform first aid, and tie a burglar up with eight inches of rope by their pinkies."
"The skills and values I've learned in Girl Scouting will continue to assist and impact me for the rest of my life," said Kirk. After over a century of Scouting, the Girl Scouts continue Low's legacy of creating powerful women and changing the world for the better.