KBJ Making History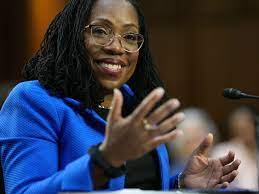 With her accolades consisting of graduating Harvard magna cum laude and working 8 years as a judge, Ketanji Brown Jackson is set to be the first black woman nominated to the Supreme Court.
During the Democratic primaries in early 2020, President Joe Biden vowed to place a black woman on the supreme court if there was a vacant position amidst his term. Despite Biden having a low approval rating since he took office, according to Dan Mangan from CNBC, with only 40% of Americans approving his decisions thus far, he has followed through with his promise.
Judge Ketanji Brown Jackson, a Harvard law school graduate and Florida native, has been the Judge of the United States Court of Appeals for the DC Circuit since June of last year. Judge Jackson clerked for retiring Supreme Court Justice Stephen Breyer after her graduation from law school, and worked as a public defender for many years before receiving a judicial appointment for the position of the United States District Court for DC in 2012. 
Due to her experience working in various careers within the legal system, Judge Jackson seems to be the most qualified person for the job, especially when comparing her to the current Supreme Court justices. According to Demand Justice, Judge Jackson has more than eight years of experience as a judge than four of the sitting justices (Thomas, Roberts, Kagan, Barrett) combined. She would also be the first public defender to become a Supreme Court justice in the history of the court.
This sounds like an overwhelmingly bipartisan support for her, but the truth is, many Republicans oppose her nomination for various reasons stemming from borderline QANON conspiracy theories to her not giving suitable answers regarding her constitutional ideology. 
The judiciary committee in the Senate interviews the Supreme Court nominees. It has been a tradition since the founding of this country. Each member of the 22-seat committee is given a ten-minute opening statement, followed by 30 minutes to ask questions, and another 20 minutes in the second round. This long trial is dragged out for a week, with the last day being saved for witnesses to testify for and against the judge.
The questions directed towards Judge Jackson were unusual for a normal Supreme Court trial, but certainly the new normal of the polarized political environment we're currently inhabiting. Among the bizarre questions asked were by fan-favorites: Senators Ted Cruz of Texas, Josh Hawley of Missouri and Lindsey Graham of South Carolina.
Senator Cruz had decided to take up the majority of the time asking Judge Jackson if she considered babies to be racist. He took this from the book Antiracist Baby by scholar Ibram X. Kendi, but failed to recognize that Kendi specifically mentioned that children can learn racist attitudes from an early age as a result of society, not saying babies are born racist.
The book Antiracist Baby was on the summer reading list for Georgetown Day School, where one of Jackson's daughters attends, and where she is also a sitting member of the board. Senator Cruz also asked Judge Jackson questions regarding affirmative action (whether he could sue Harvard if he were to change his race), and claimed that Judge Jackson was too lenient on sentencing child pornography offenders.
Senators Hawley and Graham also jumped on the child pornography bandwagon. Senator Graham interrupted Jackson during his questioning to say that he'd be glad to see a sex offender be sent to prison for a long time, and then added, in reference to that behavior itself, "You don't think that's a bad thing."
The issue is: the three senators know exactly what they are doing to paint Jackson out to be lenient towards pedophiles and to be a person who has a hidden agenda of exploiting children. Knowing them, they didn't get very far.
Jackson repeatedly told senators the care she had taken with these cases, and how she was once afraid to go outside because she was afraid people would see her as vulnerable. Most federal judges impose sentences in cases that are below the federal sentencing guidelines for child-pornography crimes because the guidelines are outdated – as in pre-Internet era. As Amy Davidson Sorkin from The New Yorker said, "Just following one formula can result in outcomes in which the worst crimes don't get the worst sentences." 
Bad-faith partisan exploitation didn't stop there, with Republican senators continuing to badger the rest of the committee to release pre-sentencing reports in the child pornography cases handled by Jackson. These confidential documents contain highly personal information about the perpetrator, the victims and their family members; the release of these documents could cause widespread damage. 
Fortunately for Jackson, she was able to take a few breaths as Senator Cory Booker of New Jersey reminded Jackson of her achievements, endorsements, and the significance of her nomination for black women. Although the majority of Republican senators have publicly said they would not vote for Jackson, Republican Senator Collins of Maine and Democratic Senator Joe Manchin have expressed their support.