Summer Snacks and Sides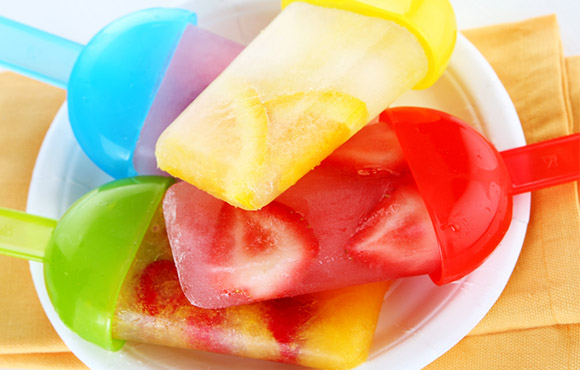 Four delicious summer themed recipes to feed your creativity and summer boredom.
Once the temperature rises and school lets out, more often than not people find that they have more time to pursue leisurely activities that would otherwise be put to the side in favor of work. Some of those activities include experimenting with cooking and baking. Try something new with these four tasty recipes!
1. No Bake Summer Berry Icebox Cake (credit to Cakes Cottage)
This delicious dessert serves between 12-16 people and, as the name suggests, requires no baking. This cake is full of fruits, giving it a sweet yet tangy flavor. The crunchiness of the graham crackers balances the smooth creaminess of the frosting perfectly. The ingredients include: 
19 oz graham crackers

8 oz cream cheese, softened

2 (3.4 oz) packages Vanilla Instant Pudding

2-1/2 cups cold milk

12 oz Cool whip (or homemade whipped cream)

3 cups fresh strawberries, sliced

1-1/2 cups fresh blueberries

2 oz white chocolate chips
The 11 easy steps to making this are:
Beat cream cheese and dry pudding mixes in a large bowl with a mixer until blended.

Gradually beat in milk.

Gently stir in Cool Whip or homemade whipped cream, reserving ½ cup.

Spread a thin layer of cool whip in a 9×13 pan just to coat the bottom.

Layer 5 graham crackers across the center of the pan, then 2 more, breaking them as needed to fit around the top and bottom edges.

Spread a layer of pudding mixture over grahams and top with a layer of blueberries and sliced strawberries.

Place graham crackers on top of berries, then pudding mixture, then layer of berries again.

Repeat the graham-pudding-berries layers 1 more time (3 times total) and you should reach the top of the pan.

Refrigerate for at least 4 hours or overnight until the graham crackers have softened completely.

When ready to serve, melt white chocolate chips in a bowl as directed on the package and drizzle over dessert.

You can use a spoon to drizzle it over the tops of the berries or you can put it into a small zip-top bag and snip off the corner for an easy "piping bag."
2. Stuffed Bell Peppers (credit to Cooking Classy)
This savory dinner dish serves about 6-8 people, and requires a decent amount of cooking. The salty-savory flavors of the meat and rice compliment the slightly bitter sweet  taste of the bell peppers nicely. You can add additional ingredients or take some away from this dish, so feel free to experiment! The ingredients include:
Long grain white rice

Bell peppers 

Olive oil

Ground beef

Yellow onion and fresh garlic 

Canned petite diced tomatoes

Tomato sauce 

Italian seasoning

Fresh parsley 

Mozzarella cheese
The steps to making this dish are:
Preheat the oven to 400 degrees. Cook rice according to package instructions.

Meanwhile, trim about 1/4-inch from the tops of bell peppers and then remove stems, ribs and seeds. Fill a baking dish just large enough to fit peppers with about 1/2-inch of water.

Place peppers upside down in water, cover tightly with foil and bake for 20 minutes.

Meanwhile, heat olive oil in a large non-stick skillet over-medium high heat.

Add onion and saute 3 minutes. Move onions to one far side of the skillet.

Add beef in chunks, season with salt and pepper then let sear until browned on bottom, about 2 – 3 minutes.

Break up beef and toss with onions and continue to cook 2 minutes, add garlic and cook until beef is cooked through about 1 minute longer.

Remove from heat, drain off excess fat

Stir in tomatoes, half of the tomato sauce (about 1/2 cup), cooked rice, parsley, Italian seasoning and season with salt and pepper to taste

Reduce oven temperature to 350. Turn par-baked peppers upright and fill with beef filling.

Pour remaining tomato sauce over peppers. Cover with foil and continue to bake for 20 minutes.

Remove from the oven, sprinkle with cheese, return to the oven and bake until peppers have reached desired tenderness, about 10 – 20 minutes. Sprinkle with parsley and serve warm.
3. Watermelon Popsicles (credit to Joan Khalaf)
You can make as many of these as you want (as with any food), as grocery stores tend to sell popsicle molds in decent sized groups. These sweet, sugary popsicles are sure to refresh you after a long hot summer day. The ingredients include:
3 ½ cups seedless watermelon, cubed

5 ½ tbsp sugar

1 tbsp lemon juice

½ cup canned coconut milk, shaken

6 medium sized kiwi, peeled

1 tbsp mini chocolate chips
The steps to making these popsicles are:
Blend watermelon, sugar, and lemon juice until pureed. 

Pour into 10 popsicle molds (

make sure to not fill them up all the way

)

Sprinkle the chocolate chips over the tops and push down so that the chips are immersed into the popsicles. 

Freeze for about 3.5 hours

During the last 30 minutes of freezing, whisk together the coconut milk and 1.5 tablespoons of sugar until the sugar dissolves.

Chill for thirty minutes

Remove the popsicles from the freezer and add a tablespoon of the coconut milk underneath the watermelon layer.

Chill for 45 more minutes

Blend kiwi with 2 tablespoons of sugar until pureed 

Remove the seeds with a mesh strainer 

Chill kiwi mixture for 30 minutes

Remove the popsicles from the freezer and add 1 tablespoon of kiwi mixture on top of the coconut layer.

Freeze for three more hours, then serve
4. Strawberry Lemonade Popsicles (credit to Joan Khalaf)
Depending on how many popsicle molds you have, this can serve any number of people, and is a sweet treat for those scorching sunny days. This dessert is sweet, sour, and cold, which makes it the perfect treat on a bright sunny day. The ingredients include:
2 ⅓ cups plain yogurt

¼ cup and 1tsp lemon juice

¼ cup and 5 tbsp sugar

1 pint strawberries

2 tbsp water
The steps to making these popsicles are:
Take ¼ cup lemon juice dissolve 5 tbsp of sugar into a bowl

Heat the mixture in a microwave for 45 seconds

Pour ⅓ cup of yogurt into a bowl and whisk until the mixture is smooth

Regrifate the mixture until it is cool

For the strawberry portion, place strawberries (cut), water, and ¼ cup sugar in a medium saucepan and bring to a boil.

Simmer for five minutes until the strawberries are soft.

Add mixture with 1 teaspoon of lemon juice into a food processor and puree.

Chill in the fridge until cool, and whisk in 1 cup of yogurt.

Blend the two mixtures together and pour into popsicle molds.

Freeze them overnight.