Best Spots for Studying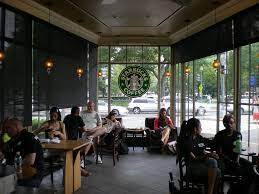 As Potomac Falls transitions into the second quarter, many students find themselves faced with mountains of homework and tests in every subject that can make the process of studying overwhelming. One thing that helps with this process is finding a comfortable place to study or complete homework. When studying at home isn't an option, there are a variety of places outside your house that all present great options for completing schoolwork. Some of these include: 
Cascades Library 
When polling 10 students at PFHS, over half of them agreed that studying at the library was their favorite alternative to studying at home. The closest public library is Cascades library, however all of them are excellent options because of their abundance of studying space and their wide array of resources.
Starbucks
Other students also recommended Starbucks, which is a great option because it allows you to get a bite of food or sip of coffee to boost your energy while you work. Starbucks also has a wide range of locations which ensures that you'll almost always be near one. 
Ridgetop or Peet's Coffee
Ridgetop Coffee and Peet's Coffee are community coffee shops that work perfect for studying after school. Ridgetop Coffee is typically busiest between 10-11 AM on weekdays and relatively quiet after school, minimizing distractions for students. 
A friend's house 
Being realistic, studying can often be tiring or dull, however studying with a friend can make it more interesting. It also allows you to collaborate with peers and bounce ideas off one another which helps some students work more efficiently. 
If you can't get out of your house to study, there are ways to make your home a more comfortable environment for homework and studying. Many students at PFHS suggested listening to music as a way to improve your concentration, while others prefer to sit in isolation with no background. Everyones studying methods are different, but it's important to find the one that works best for you.