What Can Be Learned From David Dobrik's Fall From Grace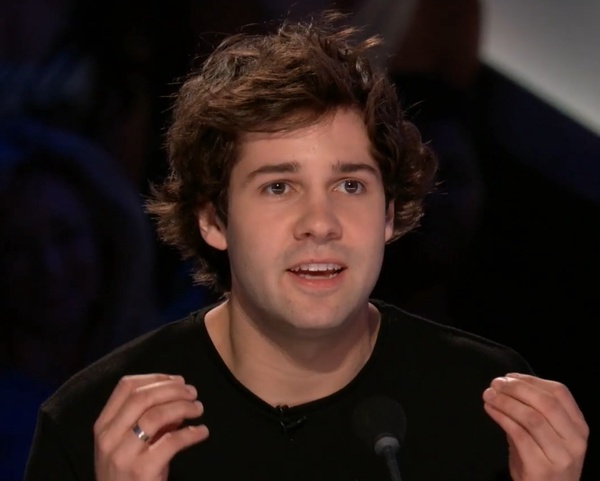 Popular Youtuber David Dobrik was wrapped up in two serious controversies over the past few months. What will become of this once beloved online personality?
Trigger warning: Discussion about sexual assault and graphic injuries.
On March 16, 2021, Insider published an article detailing an accusation made by an anonymous woman, dubbed Hannah, stating that she was raped by former Vlog Squad member "Durte Dom", real name Dominykas Zeglaitis, in 2018. She and a group of other college students met up with the Vlog Squad one night, aware of their fame but only agreeing to meet with them. However, Zeglaitis claimed in the video that they were invited over to have a "five-some". Hannah later claimed that she became too incapacitated by alcohol to consent, at which point Zeglaitis sexually assaulted her [Insider].
"It was very much an environment where it felt like saying 'no' was not OK… They were verbally, like, 'Why aren't you guys being fun? Do something sort of sexy,'" said Hannah to Insider. The Vlog Squad was composed of Dobrik's friends, who were filmed by Dobrik doing crazy or raunchy things in fast-paced vlogs. They were young, rich, and living in LA; their appeal was evident, and they gained millions of views per vlog. While their videos may be partly scripted, Insider reporter Kat Tenbarge, author of the original article breaking the story, describes them as a mix of "reality TV, improv, and situational comedy" [Business Insider]. 
Zeglaitis himself responded to the allegations a few weeks after the story broke in a vague, defensive statement posted to his Instagram story. Dobrik was quicker, as he posted a now-deleted video on his podcast channel addressing the situation, then uploaded a seven-minute long video titled "03/22/21" to his main channel. "I was completely disconnected from the fact that when people were invited to film videos with us… it was that I was creating an unfair power dynamic. I did not know this before," said Dobrik. He also apologized to Hannah and her friends, and said he believes the allegations completely [Vulture].
Nearly a month later, YouTuber and former member of the vlog squad, Jeff Wittek, revealed that the accident that severely injured his eye and skull was caused by him flying into an excavator, which was being controlled by Dobrik. He explained the story in a docu-series on YouTube called "Don't Try This At Home", stating that the Vlog Squad had not filmed a video together in months due to the pandemic. They finally met up at Bear Lake in Utah, where they got a hold of an excavator, tied ropes to the end of it, and took turns swinging around [Insider]. 
Dobrik was controlling the exacator as YouTuber Corinna Kopf swung through the air erratically before quickly shouting, "You take things too far always" and asking to be let down. Wittek then got on the rope and said in the narration "…I grabbed the f–ing rope and I tried to make a goddamn funny video for the people". The footage showed Wittek swinging around at high speeds before cutting to clips with Wittek face down in the water and people screaming and running to him [Insider]. 
Todd Smith, member of the Vlog Squad, said that the side of Wittek's face was "just open", with pictures posted by Wittek on Instagram showing the severity of his injury, as he had multiple stitches and wore a neck brace [Insider]. Wittek explained in his video how he resented Dobrik after the accident, as he rarely checked up on him, and that he just wanted David to "…talk to [him], man-to-man in person" [Insider].
After almost back-to-back controversies, Dobrik definitely felt the heat. He was dropped by over 11 brands who previously sponsored him, lost hundreds of thousands of subscribers, and faced harsh backlash all across social media. Past instances of misconduct were also brought up, such as the Vlog Squad pulling a "prank" on YouTuber Seth Francois where they tricked him into kissing 45-year-old comedian Jason Nash when he believed he would be kissing Corinna Kopf [Insider]. 
Before these incidents, Dobrik was generally well-liked. He was seen as charming, with no real scandals. Just an outgoing, energetic kid who liked filming his friends do wacky stuff. He was even known for giving his friends and random strangers free cars, game consoles, and other expensive items. But his young and impressionable audience glazed over the questionable things that Dobrik made his friends do, as they were disguised as pranks, or cut out through the power of editing. 
YouTubers fall into a tricky category of celebrity. They are not as mainstream as TV or movie ones, but are more popular among younger generations because of the perceived authenticity that the platform gives them. They are often self-employed and directly involved with the production of their videos, meaning that they can present themselves as more down-to-earth and relatable than traditional celebrities. Dobrik was a prime example of this, but as with any online personality, one can never know how they truly behave off-camera. 
It is clear that his audience ignored the red flags for years, but considering they were mostly young people coupled with Dobrik's manipulation tactics, it is easy to see how he got away with what he did. But let it be a lesson to not just his audience, but everyone who is a fan of an online personality or any celebrity: we do not know these people personally, and we must hold them accountable for their actions. Even if they are beloved by many and seemingly unproblematic, we can not let ourselves get too attached to them and be blind to their faults;  especially when they are as serious as being complicit in rape and knowingly endangering the lives of others. 
The morality and effectiveness of "cancel culture" may be questionable, but holding someone accountable for their awful actions is not.